Welcome to our August 2016 Main Meeting
This month we had a double header,

Huawei the third largest Mobile manufacturer, and

Vaya, Australia's mobile phone price fighter.
Huawei,
First up Peter Adamovic, the Director for GTM at Huawei, took to the stage to show us the high quality range Huawei has on offer. Huawei has three arms to the company. There is the carrier group, which supplies router and network systems. One in three people, could be using a Huawei product through their phone company. Then there is the enterprise arm which supplies high powered computing services like sensors and computing components for machinery, the internet of things. Finally, the consumer arm which is making phones, tablets, and wearable products, mainly smart watches.

Huawei is currently a $60 billion dollar company employing upwards of 170 thousand people. To lay the demon to rest it's not a Chinese government-owned enterprise, it's owned by the employees, rather unique in any Chinese enterprise. It was started by an ex-army officer made redundant.
The consumer arm only started five years ago but is now one of the fastest growing mobile phone makers. Last year Huawei achieved the goal of one hundred million smartphones. This places them third in global sales behind Apple and Samsung. Peter put that growth down to Huawei's massive research and development (R&D). The research is not just in phones but across the board in all the infrastructure equipment that makes up the mobile networks, land line phone routers and switches, and in private business network equipment.

The R & D includes development of the new 5G technologies. Huawei equipment can be found in around half of the networks in Australia.
Peter said his main love is "the shiny toys" and he moved on to show us the Huawei's 78 major consumer products. Starting with the P9 Huawei's latest phone.
Peter noted that the camera on a mobile phone now accounts for 78% of all photos taken.
With that in mind, Huawei have partnered with Leica to create the ultimate phone camera. The P9 has Leica twin lenses. If you have any love of photography you would have heard of Leica. Leica is a German camera and lens maker for professional level photographers. Some of the most iconic photos have been taken on a Leica.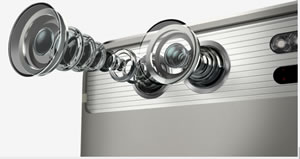 The lenses are, Leica Summarit H 1:2v2/27 ASPH lenses. Behind them Huawei has placed two sensors. A full monochrome sensor for true black and white and a full colour sensor. Then Huawei builds a photo from those sensors to give crisp vivid colour with true black giving the image great clarity and depth.
The phone camera has progressed a long way from the VGA and 1.2 megapixels of the original camera phones. In Peter's opinion now it's more about the quality of the camera than the number of pixels. Phones are starting to match Digital Cameras in pixel rates, and quality of the image becomes a priority. Now customers are starting to look for the same features a good camera such as a single lens reflex (SLR) camera would have. Control of the light and the depth of field, the aperture, the shutter speed and focus are features becoming more critical than just the number of pixels a phone has.
In teaming up with Leica, Huawei was able to have Leica's ambassador in Australia, Kristian Dowling join them to demonstrate the P9s capabilities. The photo above is an extract from the ads Peter showed us in which Kristian demonstrates just what the P9 can do.
Let's not forget the P9 is still a phone. It's 4G and has Huawei's own Octa-core 2.5 Ghz Processor. It runs 3 GB of ram and 32 GB of memory and micro SD slot. The screen is full HD. It has a precision metal engineered uni-body making it light weight and tough. Security is also present in the form of a figure print reader. Originally in the Mate 7, this reader will read the depth of the ridges on the finger, and will work even if your finger is wet. It's on the back of the phone in the precise position most people would hold a phone. The battery is not removable but a twenty-minute charge should last all day.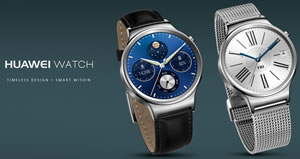 Peter moved on to introduce the Huawei Watch. It's their first premium watch and they are now number three in the market. It's a watch not just a fancy device; it has a black HD scratch resistant sapphire screen and stainless steel body The watch runs the Android IS so any Android phone can connect to it. Many users are connecting to non-Huawei phones.
Phones appear so critical in today's world, and Peter introduced us to

Nomophobia the fear of not having your mobile phone. Ever willing to help those suffering from the illness
Huawei has the Mate 8. It has a full two days battery life, a 16 mega pixels camera, a large HD screen, dual sim and a finger print recognition. To quote Huawei's site
With its 4000 mAh high-capacity battery, the new Mate 8 gives you more time to call, connect, play, and watch without needing to worry about running out of power. Thanks to its highly efficient Kirin 950 chip with SmartPower technology, the Mate 8 sets new standards for smartphone battery life
Media Pad M2 8 is where the phone starts to meet the tablet. The Media Pad as Peter said "is a content consumption device".
It has a 4G LTE network connection, an 8 inch HD screen with Harman/Kardon dual speakers and runs on the Kirin 930 Octa-Core 64 Bits processor. It was also one of tonight's the raffle prizes.
Peter ended the talk with a look at the new Mate book, yet to be released in Australia.
This is Huawei's first foray into "all in one computing." It's pitched at both consumers and businesses, with a variety of combinations to be available in the US. Huawei is yet to decide which version will be released in Australia. It's hoped the Mate Book will come with a cover / keyboard as part of the package. A touch pen and dock should be available separately. In comparison, the cover, keyboard and pen of the Microsoft Surface are sold as separate accessories.
This is a Windows 10 machine with a 6th generation Core M Intel processor, 12 inch touch screen, a minimum 4 GB of ram and a 128 SSD hard drive. Peter spoke about the demand for Windows tablets especially in the Business market and in education. Unfortunately, most tablets are Android and those windows models you do find are on the high end of the market. The MateBook should be on the market in Australia by the end of the year once the model and pricing have been decided. It currently retails in the US for $699.
Vaya
After the break, having seen the fabulous Huawei phones we now got to hear about how to connect them without paying a high price.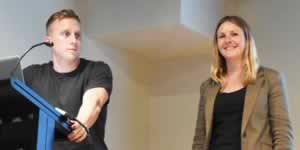 Jen Snell and Ian Fagan took to the stage to tell us about Vaya, the mobile phone price fighter. Vaya is an online, SIM only company. It was acquired by the Amaysim group earlier this year. Joining Amaysim gave Vaya access to the Optus 4G network. Ian showed us some Stats indicating how in June 2015 Amaysim had 23% of the market and Vaya around 4%. After the Amaysim take-over they had gone to 29% of the market while the closest competitor only has 15%.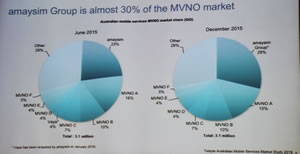 Ian continued the conversation on Vaya with a looking at SIM only vs mobile phone contracts. These contracts lock people in to paying too much for the service.
If their circumstances change they end up out of pocket and not using the service, they paid for. The popularity of contracts has fallen dramatically with the rise of companies like Amaysim and Vaya.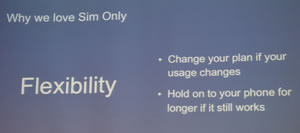 They have put such pressure on the larger companies that we are now seeing significant price drops across the board. Vaya's approach is that people will stay because they want to not because they have to. It makes for a much happier customer and better customer satisfaction.

Now over 52% of plans are "no strings attached" that is no contracts and SIM only. That is up from 22% in 2015 and 18% in 2014. It appears over 80% of Australians own their device outright.
Jen then took the microphone to tell us about how Vaya works and about those great savings.
Vaya sees itself as a price fighter while providing a solid network connection through Optus 4G plus. Jan noted that it is the full 4G network not a cut-down version. We have all seen those; "we match any advertised price" or "we'll better by 10%" adds. Vaya noticed that no telco made such an offer. So in May, Vaya introduced the "price guarantee".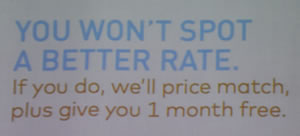 How does it work? If you find a better price from another telco, you contact Vaya and they will match that price and the 10%? Vaya throws in a month free.
The first plans we looked at were the month to month plans.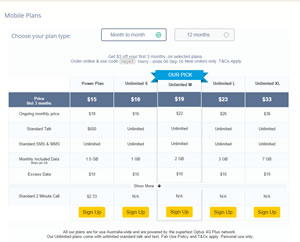 Most of the plans have a three month discount of $3. The cheapest was the Power Plan at $15 ($18 after three months) and included 1.5 GB per month, unlimited SMS and $650 of phone calls. While the one Jan liked, was the $16 plan, 1 GB of data with unlimited talk and text. All plans include 1800 and 1300 numbers. The other plans go up in price as the data allowance increases. Jan also spoke about the yearly plans.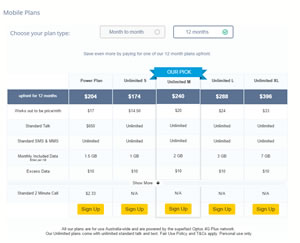 The $16 per month plan paid upfront for a year is only $174 or $14.50 per month. Review all the plans.
Jen explained how they keep the cost so low. Firstly, they are only online, they have no overseas calls and they share services with Amaysim. However, they do have a separate customer call centre handled by a Vaya-trained call team.
Jen was keen to explore how we can save on mobile phone plans. Knowing your usage and what you need are the key to making a saving.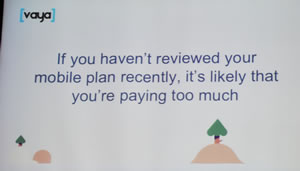 How much data do you use, are you frequently going over your limits or do you need international calls? She then compared prepaid and post-paid plans, prepaid has fixed cost upfront while post-paid gives you flexibility to continue usage despite using more data or calls than normal.
Unlike some companies, if you exceed your data limit Vaya does not cut you off. For a fee of $10 per GB you can still stay on the web. If you would rather not have an excess data charge simply contact the call centre and have it turned off. That can give you peace of mind. You only pay the set amount. Unfortunately, the unused data does not roll over.
Unlike most companies, Vaya uses a calendar month for their plans. You get your bill on the same day each month but the cost runs for that calendar month. Data is calculated in Kilobits. If you really wish to compare plans Jan suggested a site called Whistleout which they use. When you join you can bring your old number or choose a new one. Unfortunately, you can't have a set number. Paying your bill is easy. When you sign up on line you give them your credit card and they use it to verify your ID for the communications regulations. Then your card is debited each month. Jan also said there are options to have direct debit and BPay.
To finish, Jan gave the group a great discount of $1 of the first three months when members sign up on line. Details have been sent to members.
The Raffle
Apart from the great offer of three months for $1 from Vaya, Huawei donated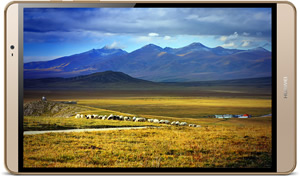 the MediaPad M2 and
the Huawei G8 smartphone
Here are our winners
Our G8 Winner Our MediaPad M2 winner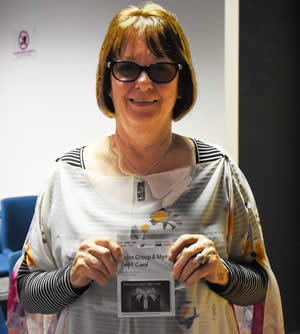 Our Door prize winner