The August 2019 Main Meeting
For our August meeting we had HappyTel and Acer along.


We started with Elizabeth Ryu
a Director of HappyTel a phone accessory and repair company.
HappyTel has fifty-eight retail stores throughout Australia and New Zealand and they are in every major capital city.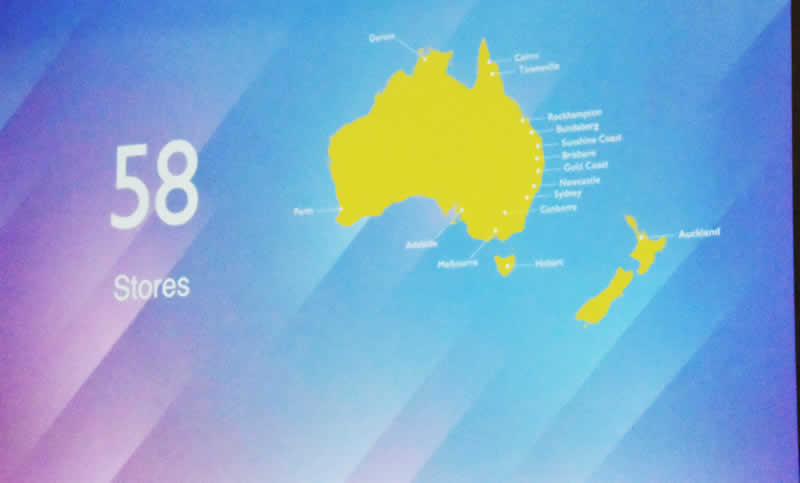 There are three pillars to the HappyTel model They are Accessories, repairs and technical accessories.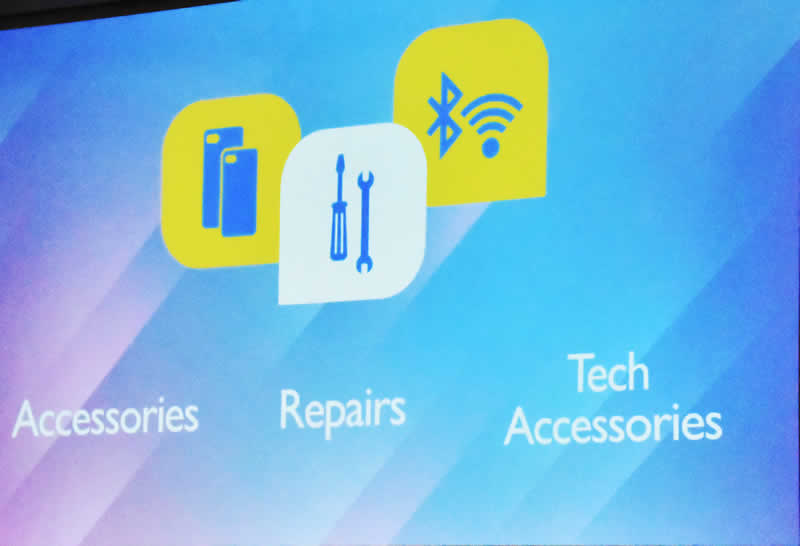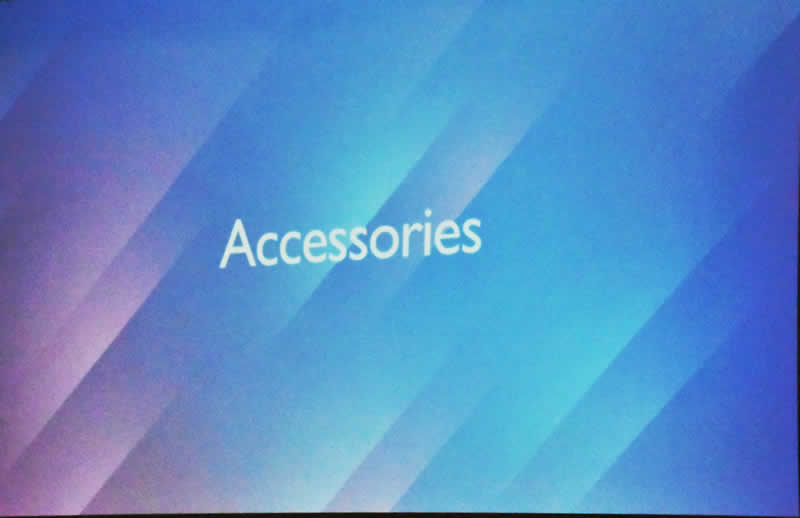 Accessories are the traditional cases, screen protectors, cables and chargers. They have a huge range for accessories.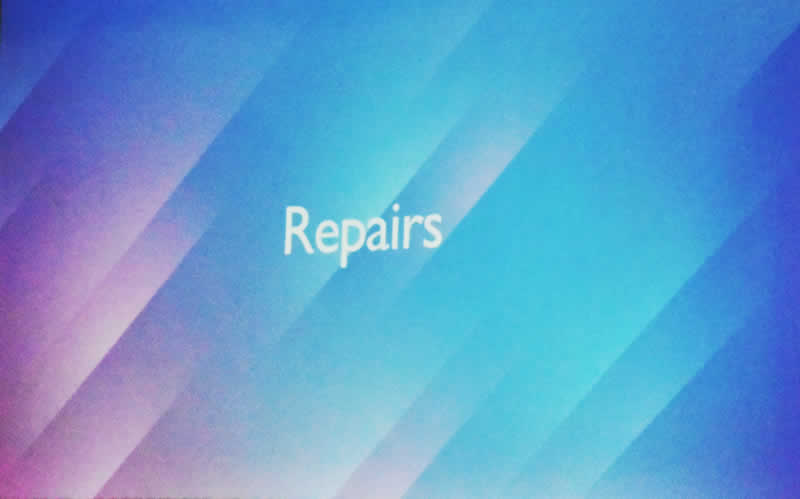 Repairs include any damage such as broken screens. batteries and physical problems like water entry and software problems. HappyTel are the largest repairer in Australia and with the best trained technicians. They do "on the spot" repairs, It was point of pride for Elizabeth that most problems can be fixed in that way.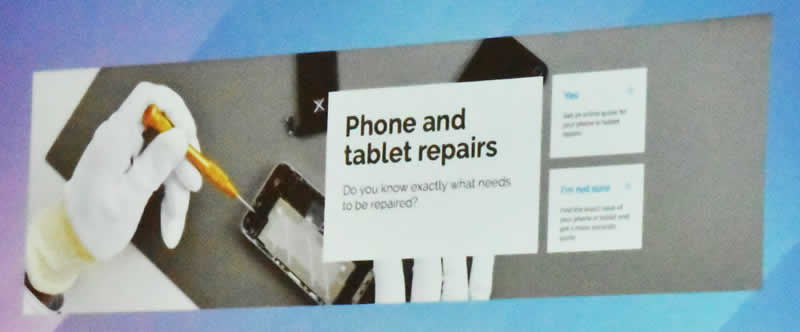 The third pillar is Tech Accessories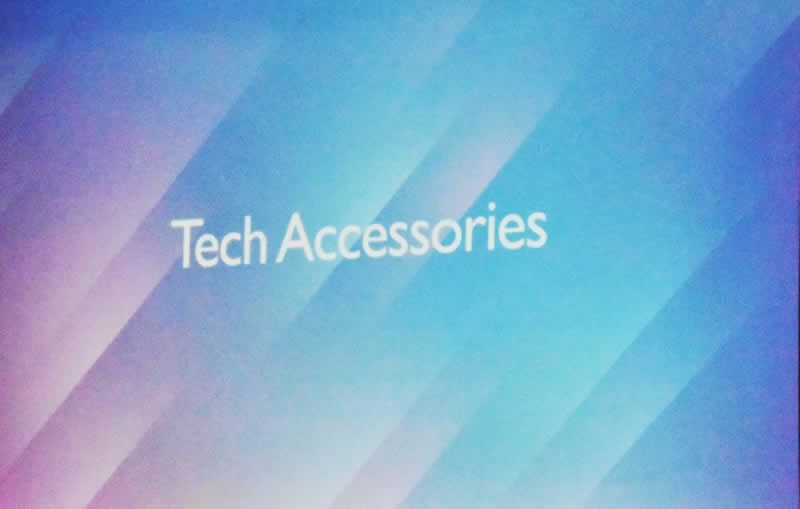 This is a new innovation for HappyTel and includes Bluetooth devices Audio, VR accessories, Smartwatch's and wireless interfacing.
HappyTel now servicers around a million customers. While repairing over a hundred and fifty thousand devices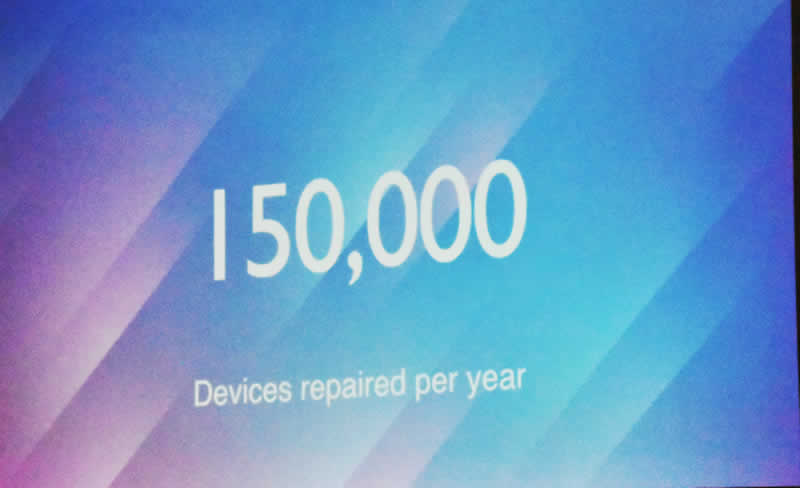 They have achieved a 4.8 star rating with Google.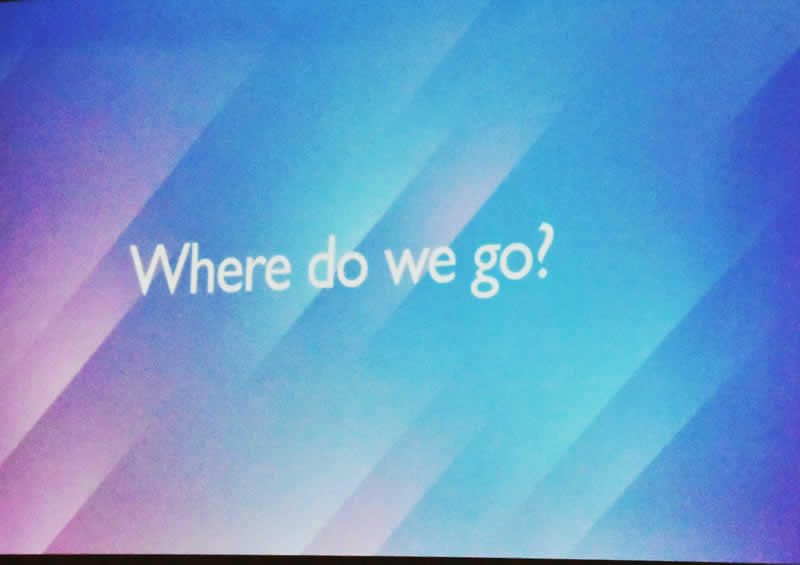 They are looking to create a viable one stop shop with repairs for all phones making.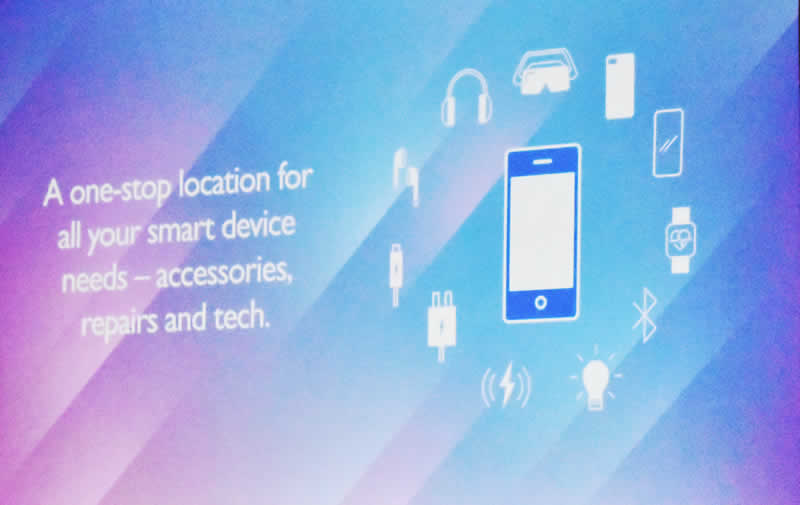 Happy Tel is about customer service. The primary goal is to see that each customer is satisfied with the product or service and they receive. As an example, HappyTel will transfer your data from your old phone to your new phone free of charge. They will also help with questions about your new phone, such as how to use that camera with all those new features.
We then moved on to the stores.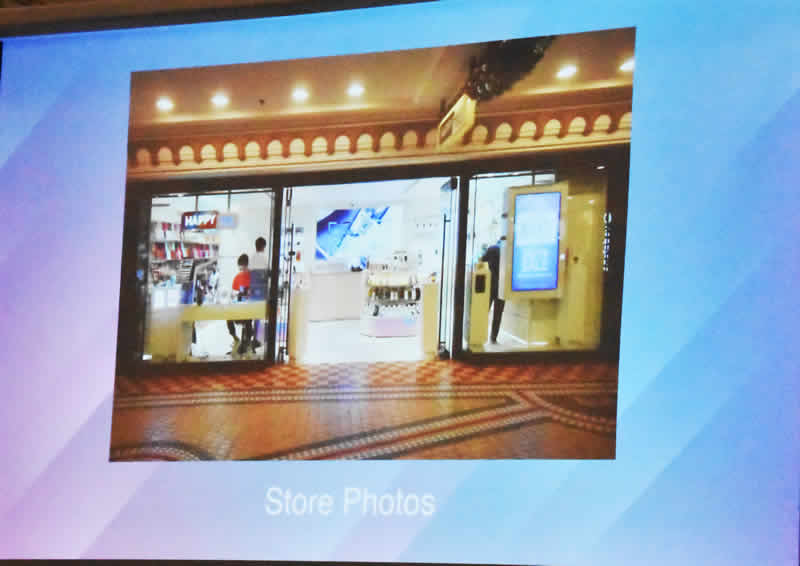 This is their QBV store just down the corridor from the entrance to Town Hall station.
One of the guys is using a device that cuts screen protectors to size so you no longer have to put up with odd sized protectors that cover mic holes and other openings. I found it a common problem as most stores only supplied the most popular brands.
At HappyTel you can try before you buy. If you come into the store or one of their Kiosks you can make sure that the Bluetooth headset will work on your phone .and the people at HappyTel are there with all the tech advice you need.

HappyTel have partnered with Huawei to be their service warranty provider. Any warranty repair is done at HappyTel's Head Office.
Do you remember this brick?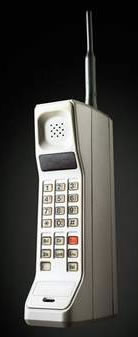 Back in the day it was around $5000 to buy and Elizabeth's mum realised that there was no way it could be protected. Her husband sourced goods from Korea and she got him to find Leather cases that had all the right holes in the right places. A few years later in 1996 they opened their first two stores in Westfield Parramatta and Burwood.

After the break Alex San,
Product Manager at Acer Australia explained Acer's newest release, Swift 5 and an entire new range of computers for design experts.
Alex started with the Swift 5. The Swift is basically a lightweight (990 grams) with a 14-inch touch screen aimed at the mobile professional.
It has an all-day battery life and some models have a dedicated NVIDIA graphics card.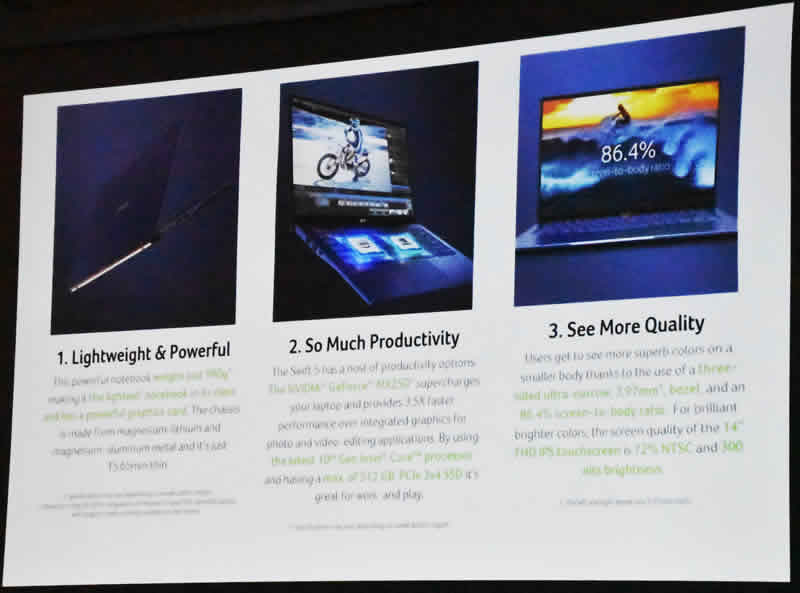 It has superb colour quality with a three-sided ultra-thin bezel and an 84.6% screen to body ratio.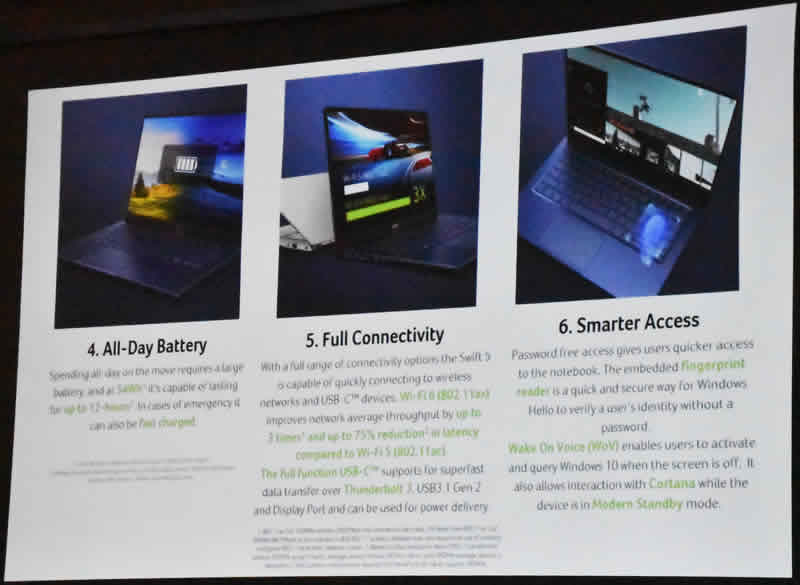 A quick 30-minute charge will give you a 4-hour battery life with a maximum of 12 hours. The Swift will have the newest Intel 10th Generation processor.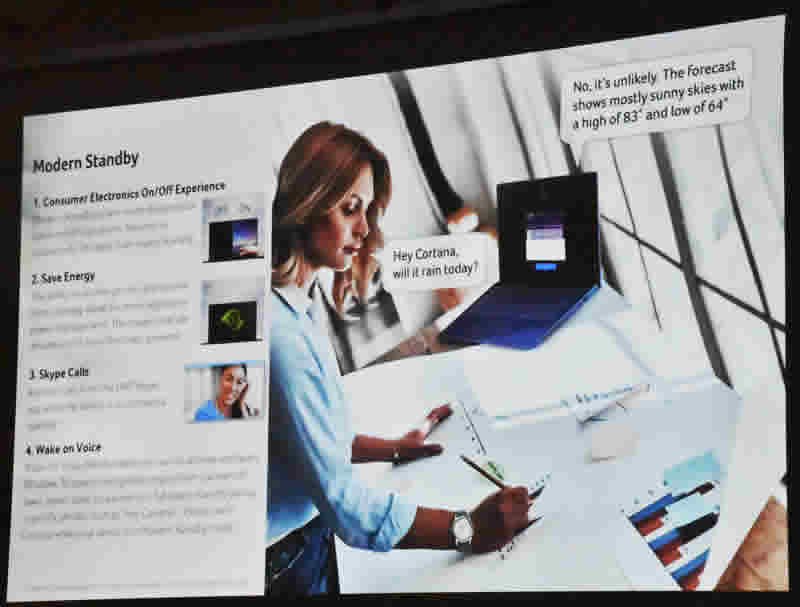 It has incorporated the latest in Microsoft security logins. There is a fingerprint reader, Windows Hello and wake on voice which allows you to tell the Swift to wake up if its screen is off, along with integration of Cortana even if the Swift is in modern standby.
It comes with the usual number of connectors, a USB2, a USB3 and a USB c along with an HDMI and an audio jack.
The swift has incorporated the latest in WiFi, adopting the WiFi 6 protocols. The WiFi 6 is around three time faster than standard WiFi.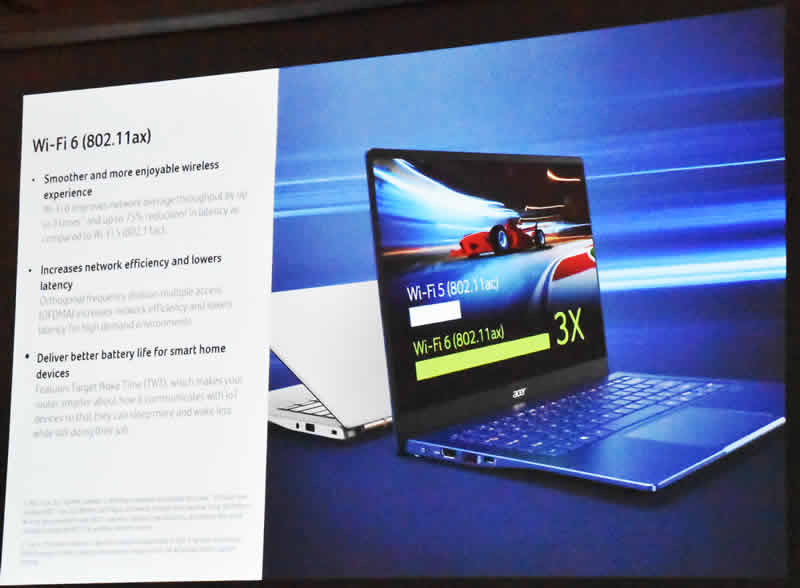 The only problem is you may need a new modem and router to take advantage of the AX protocols.
In summary, the Swift has a 14 inch touchscreen with up to 1 TB of SSD storage with either a I5 or a I7 tenth generation Intel processor. It includes USB c and thunderbolt connectors.
The new Swift will be available around late September and the i5 should retail around $1499.
Ken then moved on to the new Concept D range.
This is a completely new range for Acer with the concept of "let creators be creators".
When I had to find a new laptop at the beginning of this year, I realized I needed power to process images and I l was drawn to gaming machines as they had the power I needed. It appears Acer had the same thought.
Acer's research told them that up to 50% of people were buying gaming machines for work rather than gaming.

Hence the ConceptD range was born. This range is based on the realization that designers need workstation performance with some portability.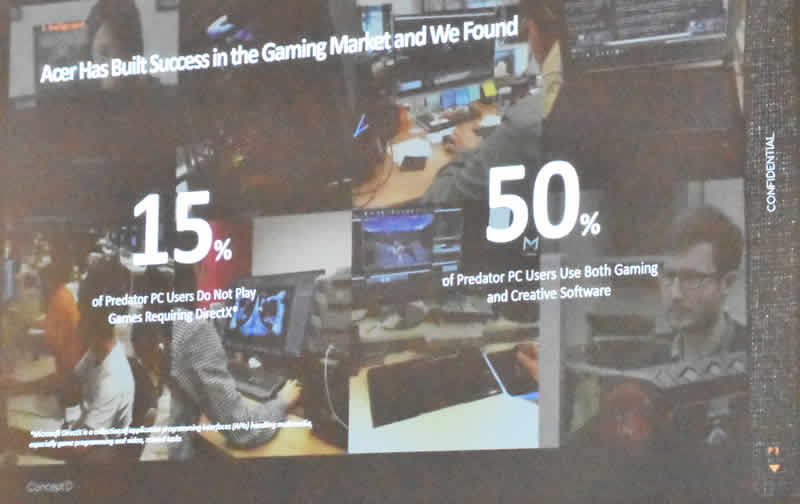 Acer recognised that functionality, low noise, unlike gaming machines, and colour accuracy were the key factors needed by designers.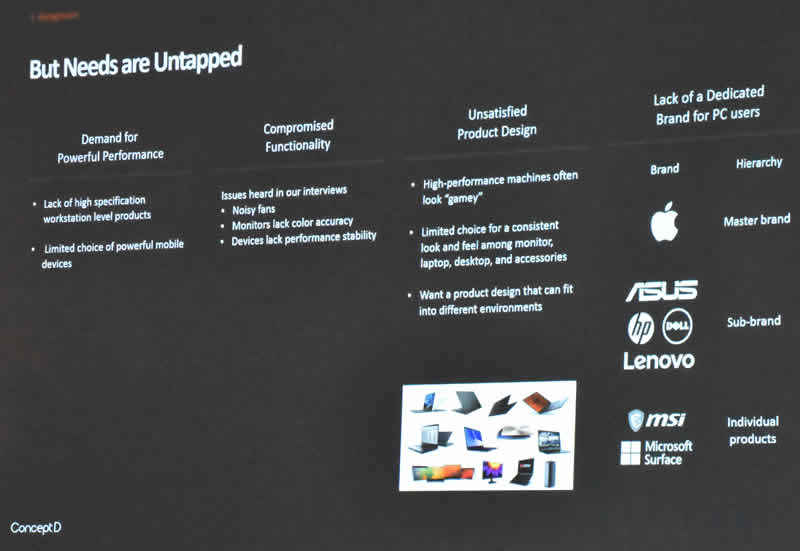 Another factor was dedicated graphics and a screen that gives as accurate picture as possible. It is one of the reasons a lot of design work was done on Apple machines. Not to mention that gaming machines look like toys with multi-coloured keyboard lights and flashing logos.
The ConceptD brand manifesto is about "overcoming the barriers between people and technology"
ConceptD is targeted at 2-dimensional work like Graphic design, photography, music and art and Web design, along with 3-dimensional work like Architecture, interior design, animation and special effects. The concept goes even further looking at software engineering, hardware design and AI development.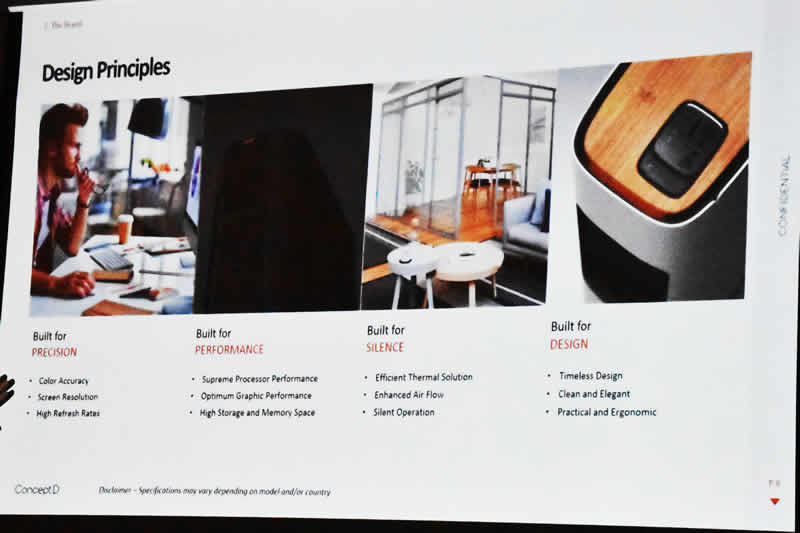 There are four design principles behind ConceptD; Precision, like colour accuracy, performance like large storage and great memory, silence, no noisy fans and design with practical and ergonomic work surfaces.
Alex continued with a run down on the ConceptD product range.
Acer looked to create a range suitable for the varying needs of the customer. Starting with the CoceptD 5 and 7 laptops. The ConceptD desktop range the 500 and the 900 and a range of monitors the CP7 and the CM7.
The featured product Alex showed us was the ConceptD 9.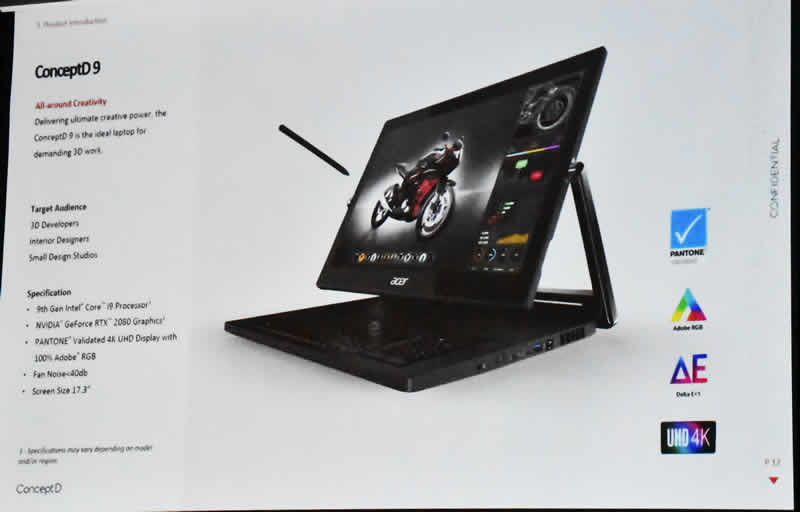 It will have a Pantone validated 4k Adobe rgb screen. Its 17 inch and is drive by a I9 intel chip.
It should be a touch screen and come with its own pen.
We then had a look at the ConceptD 5 and 7.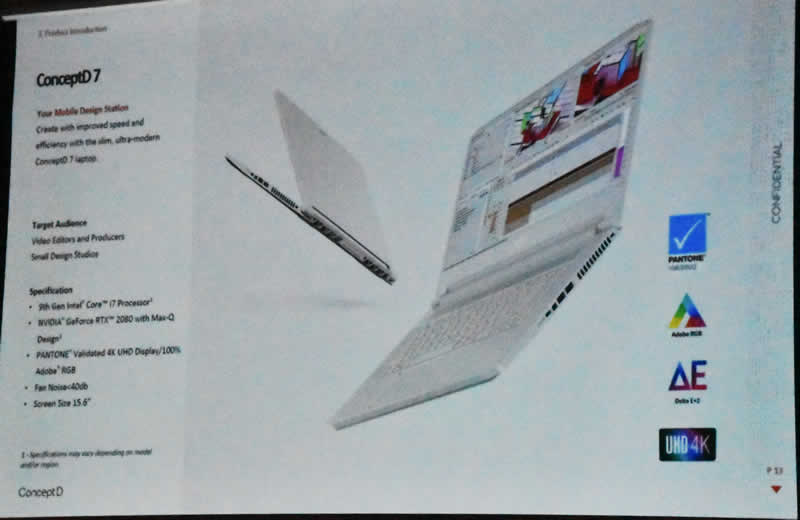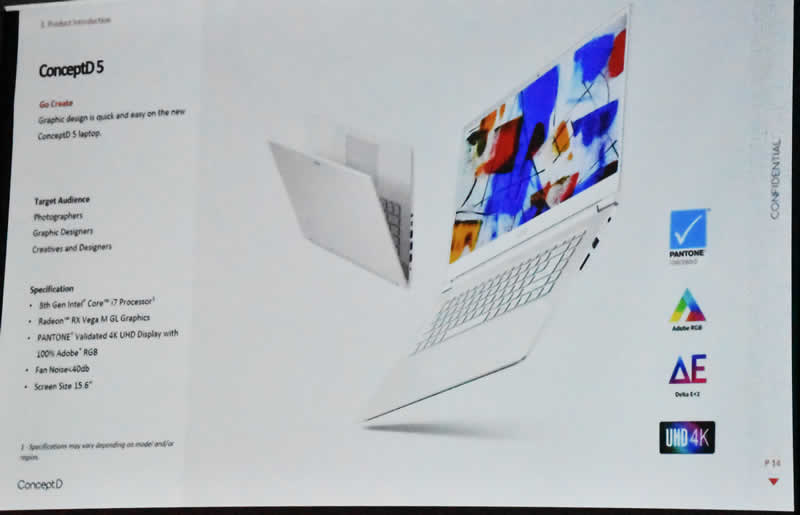 Both have I7 processors and 15 ich screens and have the same screen Pantone Abode RGB graphics. The 7 has NVDIA GeForce graphics card and the 5 has Radon RX Vega card.
The desktops have two versions 900 and the 500.
The 900 is one powerful machine with a dual intel Xeon processor, NVDIS Quadro graphics card and up to 60 TB of storage.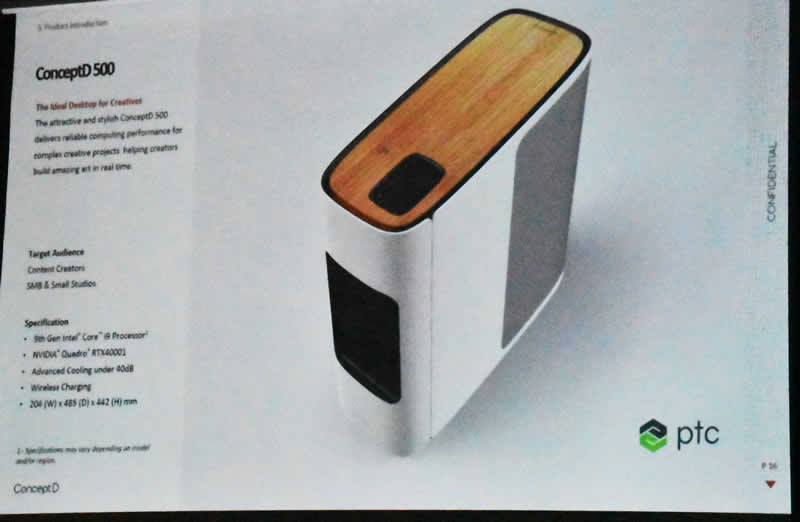 The 500 arrives with a 9th Generation Intel Core i9 processor with 5GHz, 8 cores and 16 threads and NVIDIA Quadro RTX 40001 graphics card. The 500 comes with two storage bays supporting both 2.5" and 3.5" HDDs. So, you can have as much storage as you need.
We then moved to the range of monitors available in the ConceptD range. The CP7, the CP3, and the CM7
The CP7 and the CP3 come with light shields. Like the laptops the CP7 has Pantone validation Adobe RGB and high definition VESA display. It's a 27inch screen.
The CP3 has an adaptive sync VESA display, 4K Ultra high definition and is also a 27-inch screen.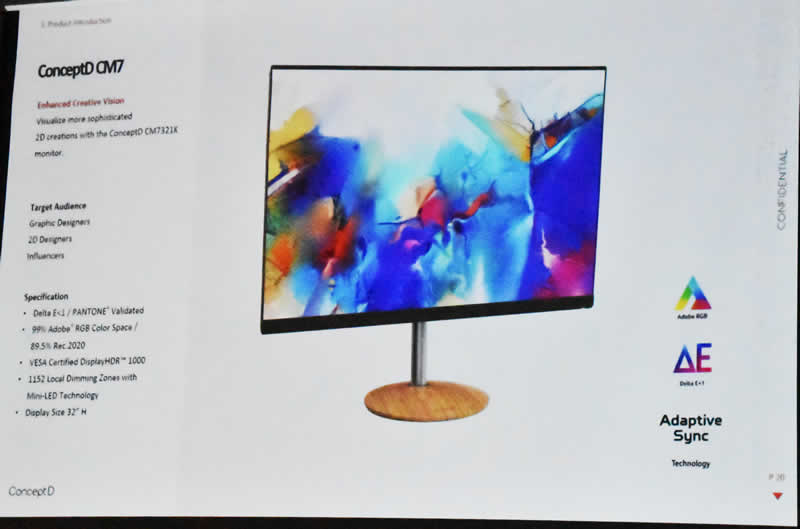 The CM7 has similar specs to the other two with Abode and Pantone colour with a 1152 local dimming zones in a mini LED technology. It's a 32-inch screen.
The ConceptD range is very new. Most of the range should be available by the end of the year. The prices should reflect the quality and high-end nature of the design. The ConceptD 9 for example should be around $8000.
THE RAFFLE
Acer generously supplied an R1 27-inch monitor and Happy Tel donated a set of wireless goodies including a wireless charger, a charging stand, earphones, a table mount and wireless speakers.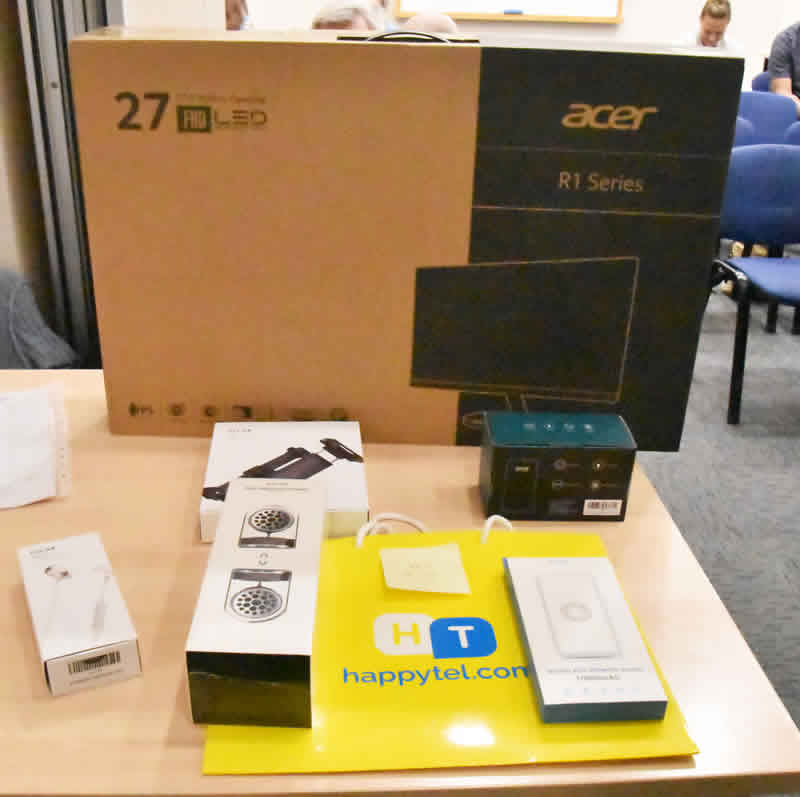 Our winners