The July 2019 Main Meeting
This month we looked at Synology Network Access Systems (NAS)
with the people from Multimedia Technology Pty Ltd
who are the wholesale resellers for Synology NAS.
Daniel Esguerra, Sales Manager for NSW, and the team were on hand to tell us all about the Synology Network Attached Storage systems or NAS for short. Synology is a Taiwanese company founded in 2000. It has become an industry leader in managing, securing and protecting data with over six million installations worldwide.
Network Attached Storage is Synology's main game.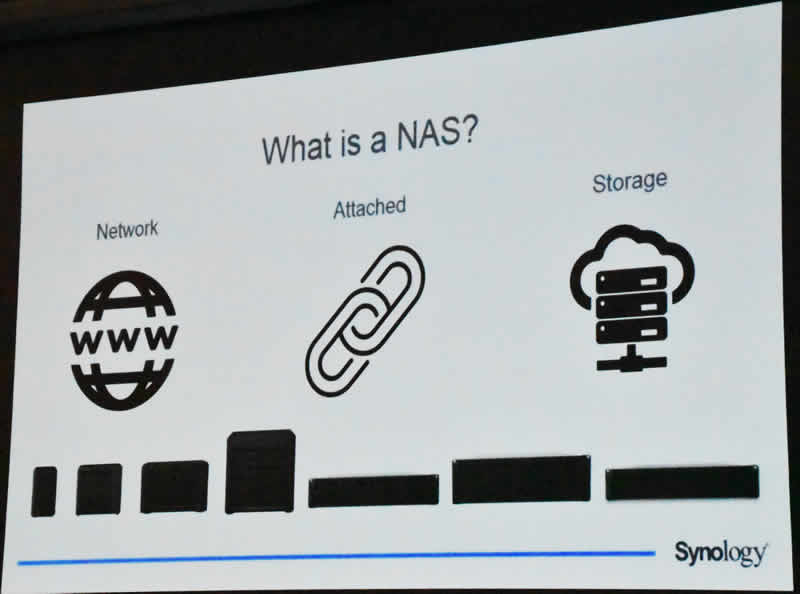 It's all about backup and using your existing network to attach or connect additional hard drives to act as backup storage. Daniel discussed the ways most people backed up data, old documents, pictures and system backups. The favourite now is the portable hard drive or a cloud service but they have limited capacities. Enter the Synology range.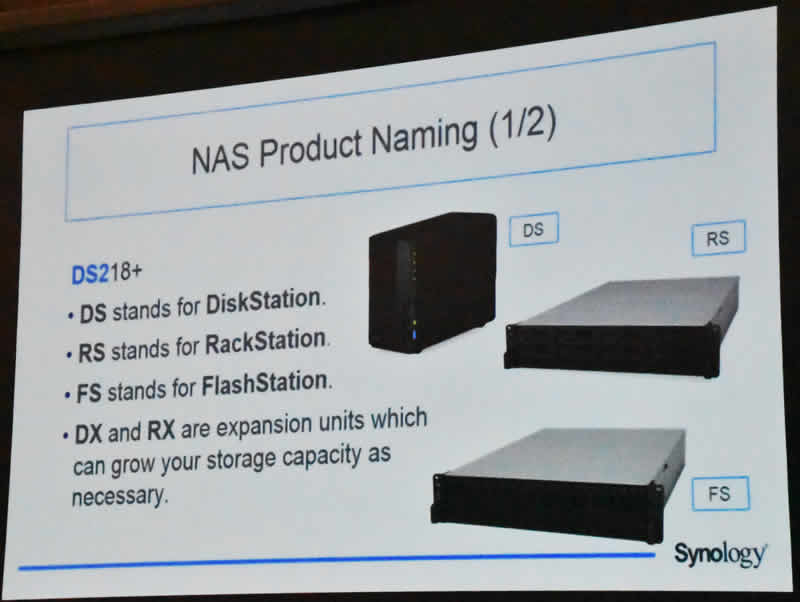 What Synology have is a range of storage solutions ranging from small consumer products like the J series to high end rack systems for enterprises with a need for large data backups. All this is backed by Synology's own software.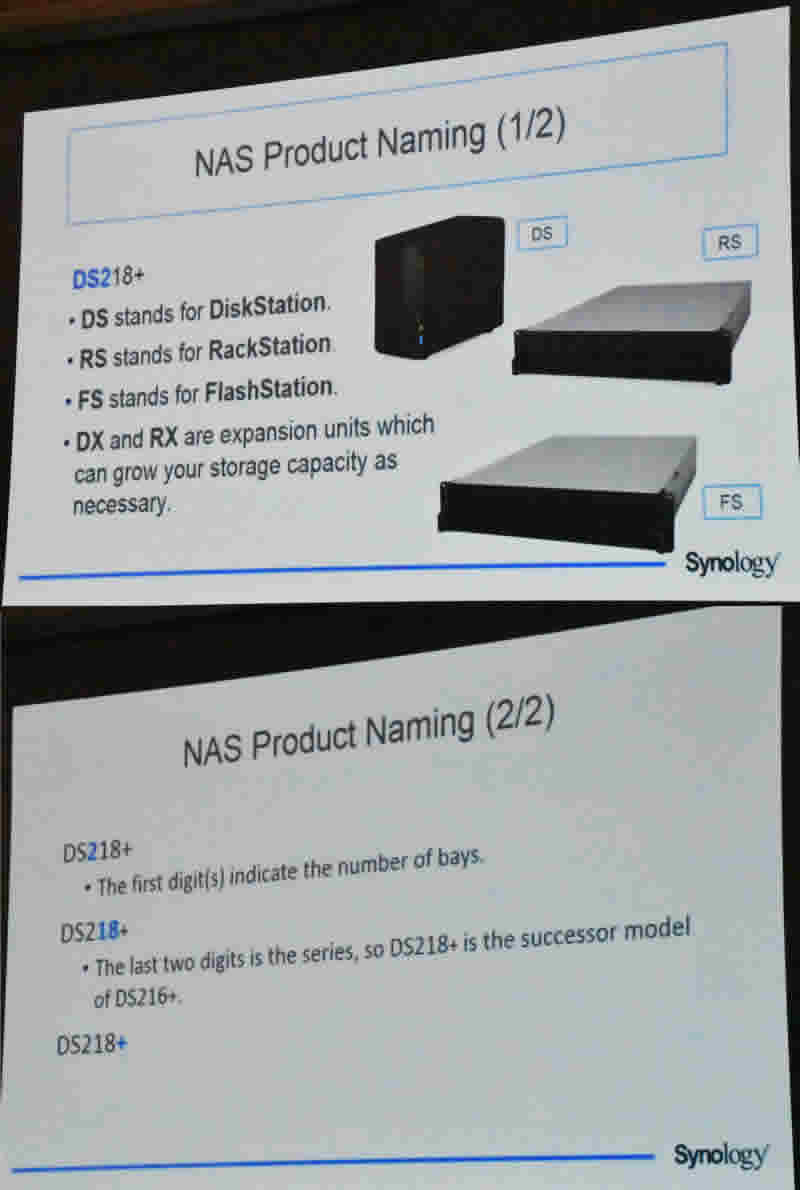 The naming is pretty straight forward the letters indicate the name. The first number is the number of bays available and the last numbers are the model.
For consumers Synology has the J series for backups of your documents, photos and file sharing. The J series makes it easy to see items like your videos and photos on a smart TV or other connected device. To get an idea on storage needs Daniel noted that 1 terabit is around one hundred and thirty thousand photos. A DVD movie is around 9 GB while online it's around a 4 GB download.
Having looked at the basic models we moved on to the Value and Plus series. The Value models are used in part for video storage while the Plus series are for file servers. These models range across both consumer and the low-end enterprise use.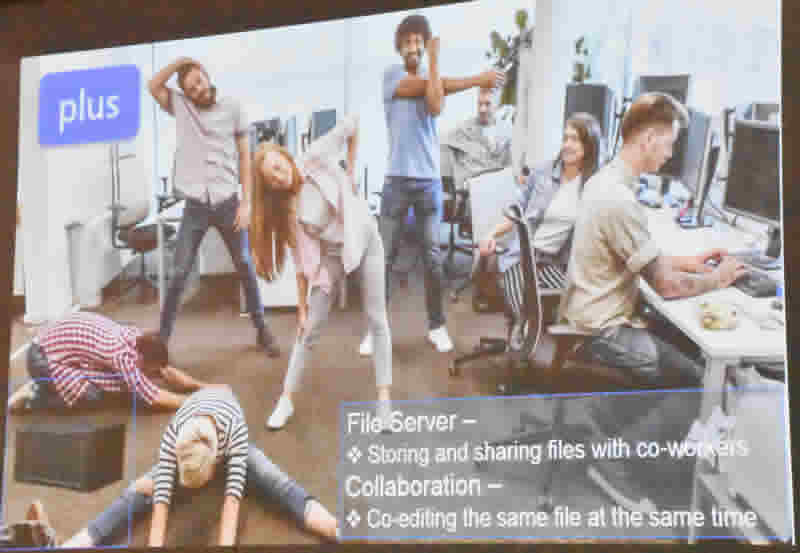 Daniel then discussed the heavy-duty storage options, the RS and FS series. These are designed for large storage systems where literally racks of hard drives are needed. This is where petabytes of data need to be saved, the sort of data a radio telescope array may need to store or the data from thousands of web sites a web hosting company may need.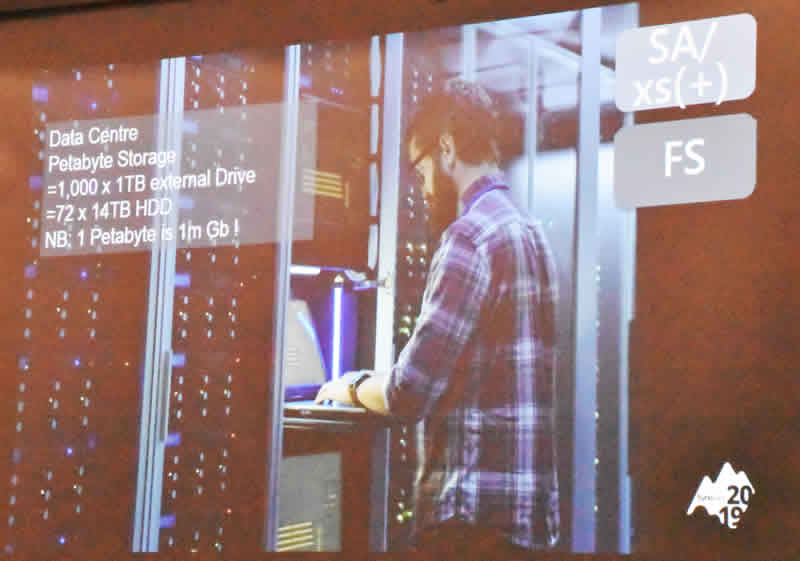 Then Daniel then moved on to the software,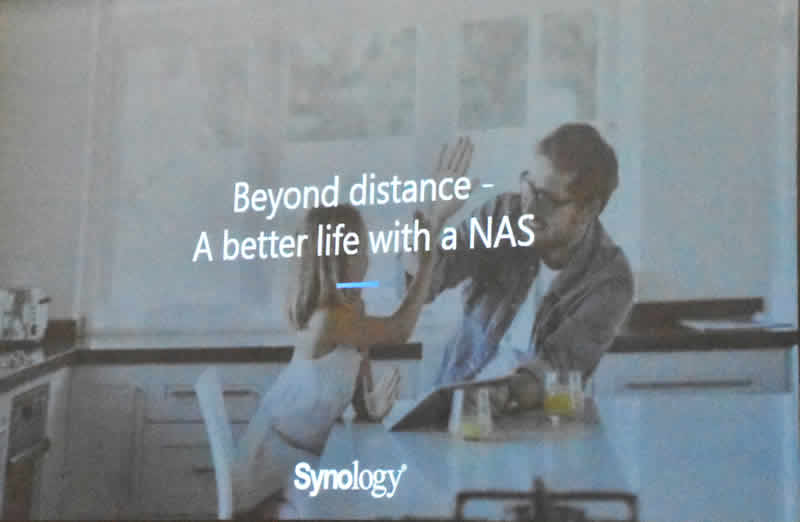 starting with photo storage. His example was the family BBQ where lots of the family members have photos. So how do you collect them? Here's the Synology solution.
A one-click collection. You create a link to your Synology NAS, sent the link via any file sharing app like "Whatsapp" or via e-mail and wait for other family members to upload their photos. Sharing the photos with the family is just as easy. Send out a link and they have access to the photos. You can limit the access with passwords and time limits.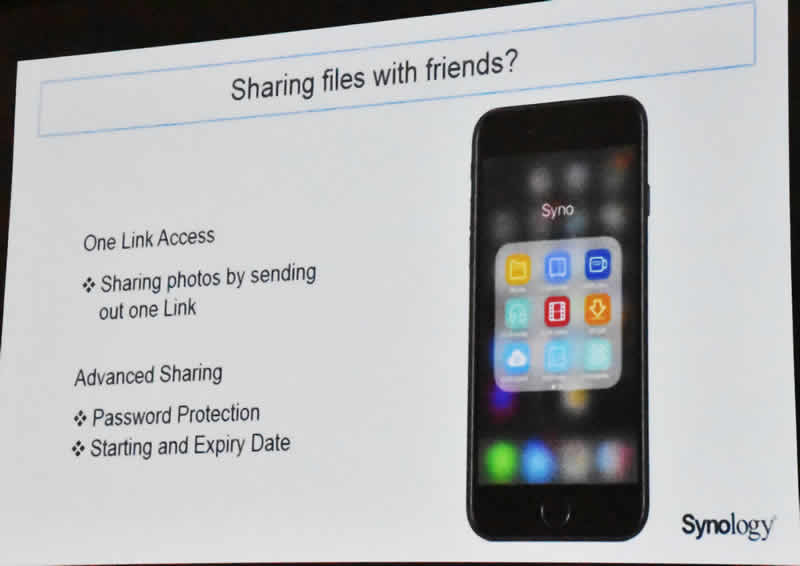 As Daniel said, all these External drives, the SD cards, the USB sticks, are "needless".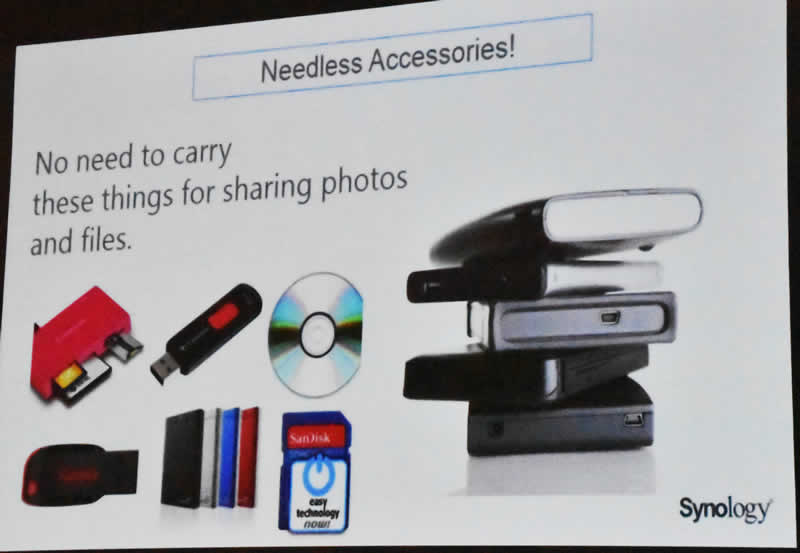 How do NAS compare to the other forms of storage and backup?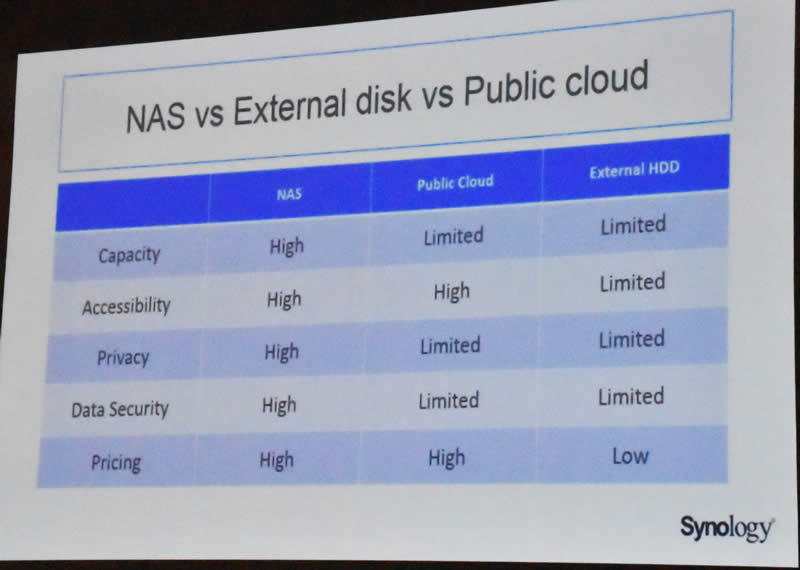 In all cases the NAS rates highly. With a NAS, your storage capacity is only limited to the size of the hard drives you have in the storage bays. If you need more you can add more drives. If you use an external hard drive you can buy another but with the NAS you have greater capacities and swappable storage. The cloud has limited storage, your data is in the hands of a third party and may be subject to cyber-attack.
Data protection goes to more than who can access your data using a NAS. One common problem with hard drives is disk faults and bad sectors making the drive unreadable. By using a NAS you have inbuilt protection using disk fault redundancy.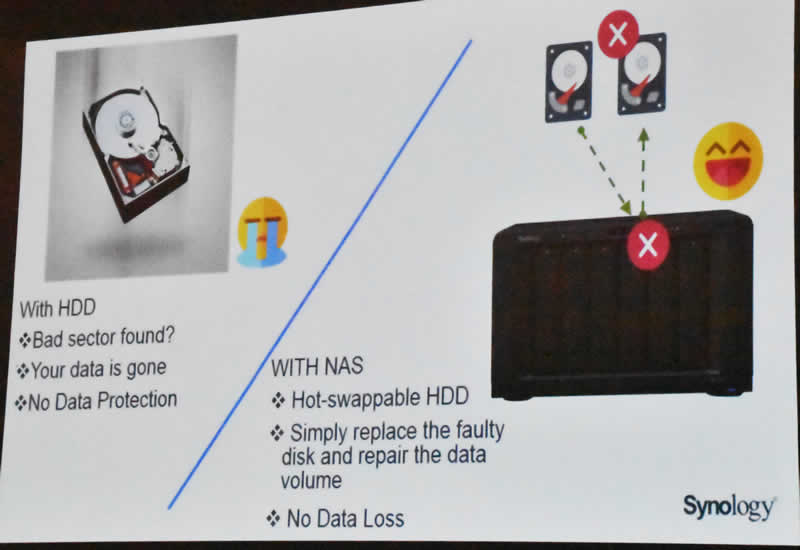 With the drives being "Hot swappable" if one drive is showing faults you can simply replace it.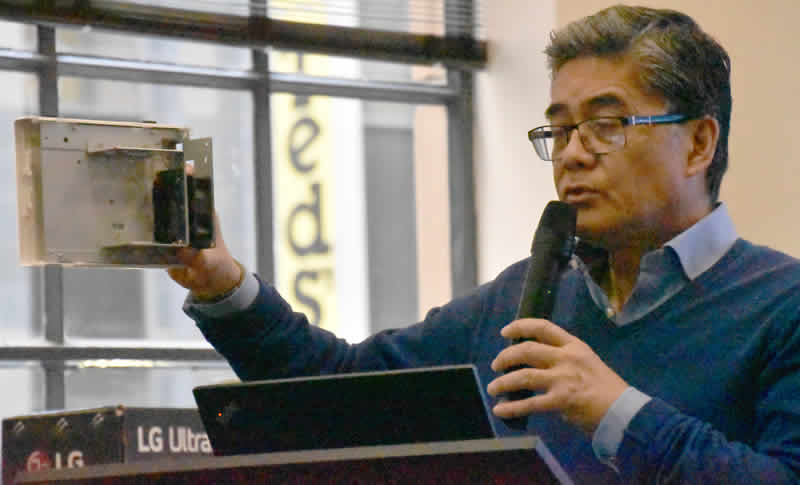 Here Daniel is showing the internal storage rack of the DSJ-218 with space for two drives. Swapping disks only works if you have at least a two drive NAS.
The Synology Photo experience. We had a look at photos using file sharing and Daniel continued drawing our attention to the Synology Photo backup software.
DS photos is the Synology solution for photo backup. It uses a shared folder on the NAS to which all your photos from your smartphone or other connected devices are automatically uploaded using your home network Wi-Fi. To stop unauthorised access, DS Photos have a "Geo-Fence" recognising that the phone is now inside the home network before starting a download. DS Photos also supports iPhone Moments with file organisation by subject, location, date and face recognition.
There is also a plug and play for USBs and SD cards used in your camera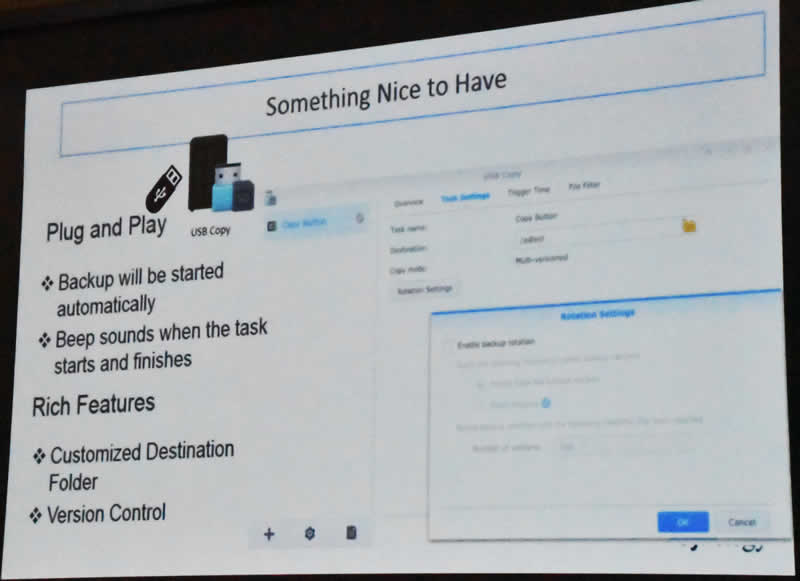 You point the SD card to the shared file on your NAS and DS Photo will automatically start the download. Once set up it will complete a backup every time the SD card is loaded and it will beep and eject the SD card once it has finished.
We then looked at the Synology backup software.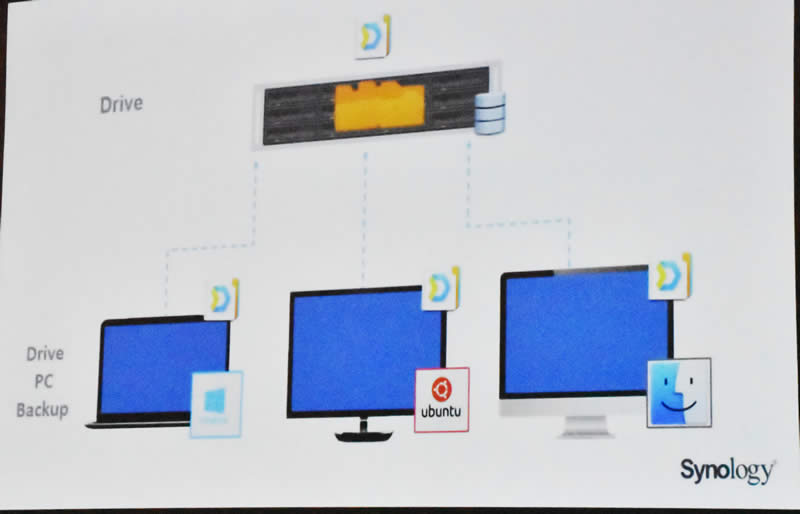 Synology supports backup to and from Windows, Ubuntu (Linux) and Mac.
It's real time backup once you set the parameters you need.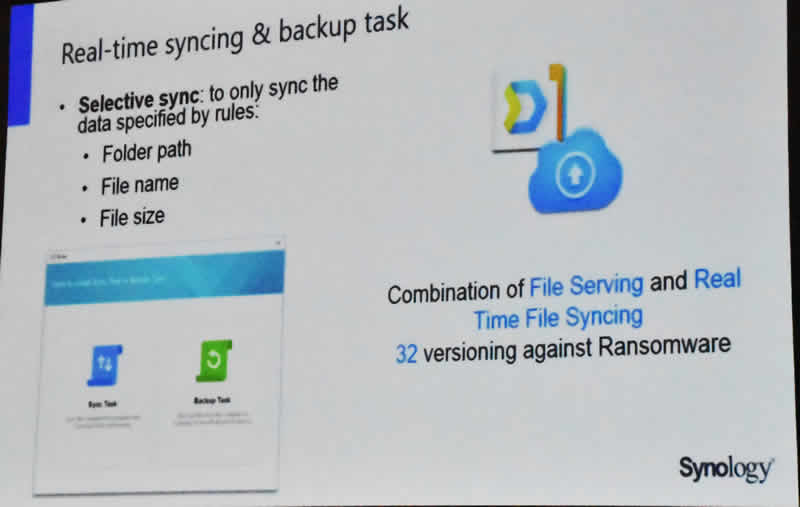 Using selective syncing you can define the backup rules such as folders, file types etc. One great feature is versioning control. Synology stores up to 32 past versions of a file or folder, a great protection against ransomware attacks. Again Mac users are not forgotten, Synology supports Apple time Machine.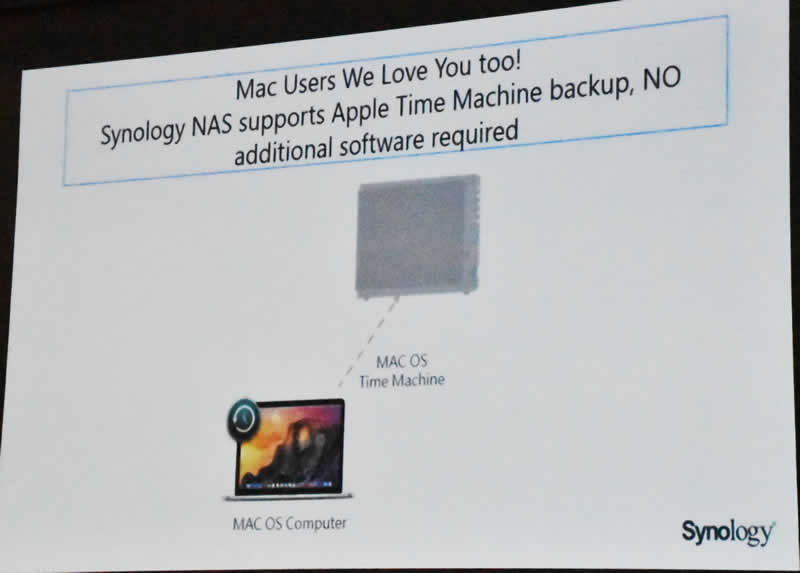 Finally, Daniel introduced us to DS Cam - the Synology security system.
The DS Cam is a security app with a licence for two cameras. It has a free app for Android and IOS. Using the app you can see what is happening in real time from those cameras.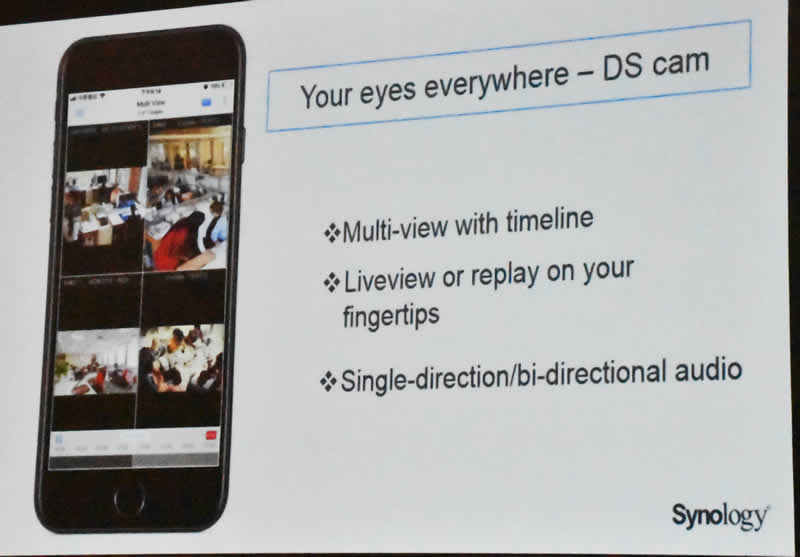 To quota from the Synology site:
"Overview Surveillance Station is a professional Video Management Software (VMS) add-on for DiskStation Manager (DSM), allowing you to remotely record and monitor video footage from IP cameras which are paired with your DiskStation."
One of the best features of DS Cam is that you don't need expensive surveillance cameras. As Daniel said "It's a second chance for your old phones". I find the idea intriguing as a small flat phone would be easy to hide and most people would not pick it as a surveillance camera, but you do need to have it in a position where it gets power.
To finish Daniel gave us a quick recap.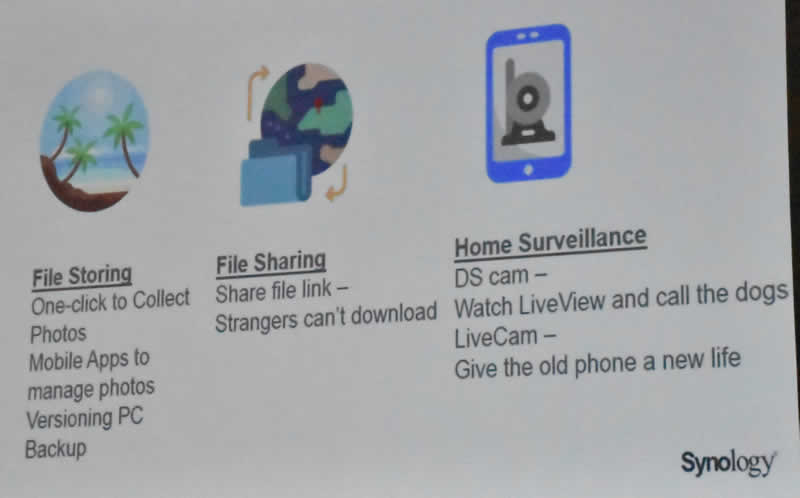 With Synology we get File Storage, backups, and mobile apps to manage photos. We can share files, documents and photos and we get Home Surveillance with DS Cam.
We had a few questions. The DS series plug into your router and work through the LAN to connect to your home network. The question of having multiple backups and where to store them was raised. You could of course buy more than one NAS and have one stored off site. Synology has its own cloud server.
So if you use a Synology NAS you can back up to the cloud using either Synology's cloud service or one of the other cloud servers like Amazon or Dropbox. Daniel's tech support noted that the Synology cloud's only limit is 10 GB per file. So, you can back up your whole PC as long as the files are no larger than 10 GB.
THE RAFFLE
Thanks to Daniel and the guys from Multimedia Technology we had a DS218j for the main prize and few minor prizes.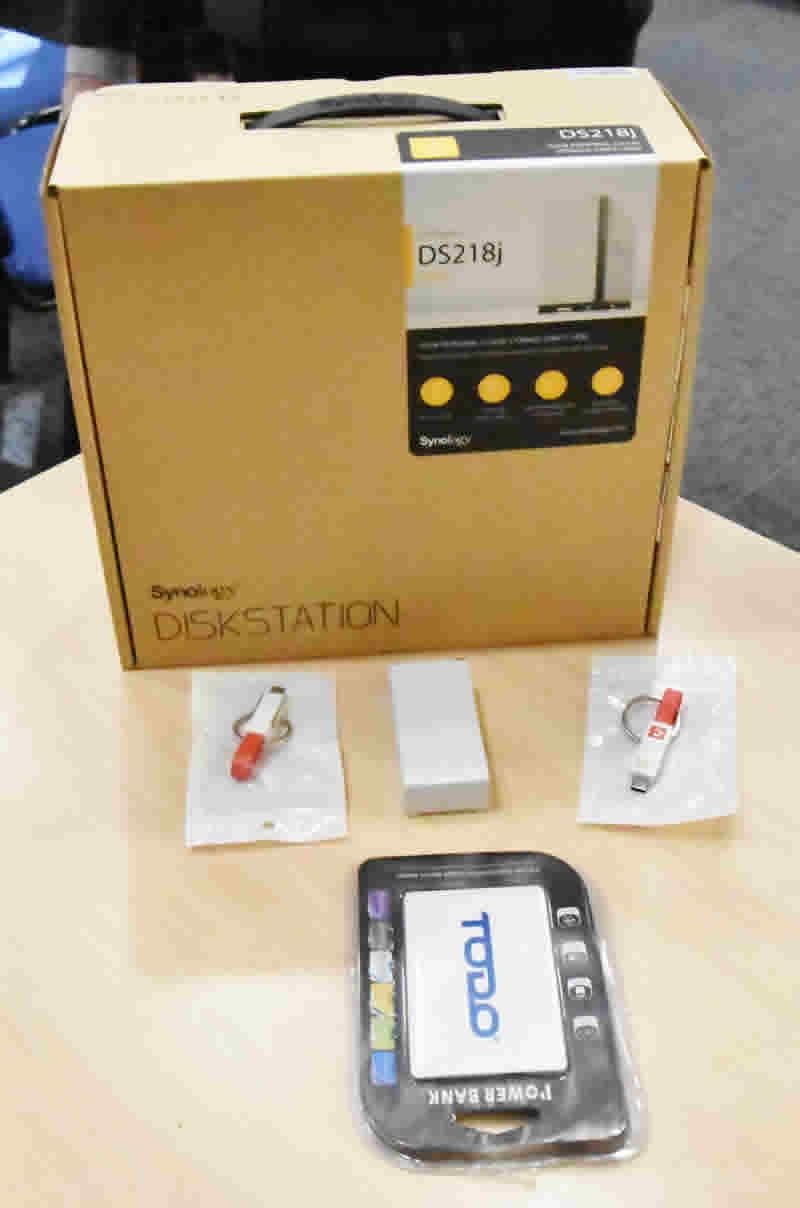 Our winner