Monthly Main Meeting Highlights
Main Meeting August 2009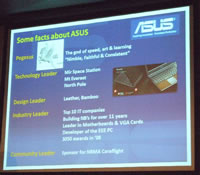 Joshua Carr, Product Manager for Retail Notebooks at ASUS was on hand to show their new range of laptops. ASUS who took their name from the last four letters of the God of speed Pegasus are the inovators of the net book phenomenon.
They presented us with the EEE PC the first lightwieght atom procesor drive netbook as we saw in our meeting of January 2008. Joshua then presented the range of U series laptops which combine the benefits of the netbook concept with the funtionaly of a full intel procecsor.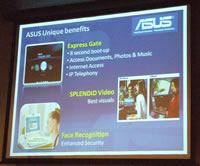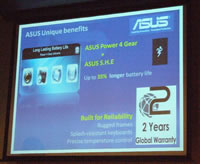 ASUS have some clever inovations in their laptops including face recgonition and express gate. Express gate is designed to let you open up the laptio and access the information you need to know without having to go through a complete windows bootup. It's based on Linux technology. I head Alex wondering how Microsoft felt about that?
This is a company very confident of it's technolgy, ASUS now offers a full two year world wide warranty on all produces including the EEE PC range.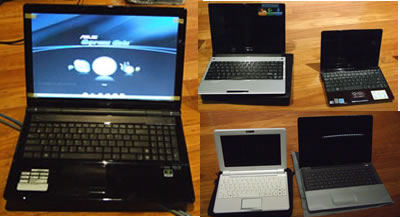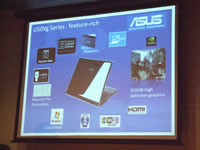 Joshua then when on to talk about the U series of ASUS laptop. He demonstrated five laptopss and the members had a hands on test as they were passed around.
Some of the models were trully lightweight but the compromise was the lack of a DVD. Joshua informed us that some of these models come with a portable DVD as standard. At an average cost of $150 to$175 that's not a bad inclusion.
You can check ou

t all the ASUS products here....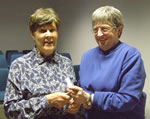 The Raffle
Prizes were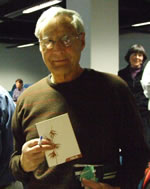 donated by both ASUS and Alex.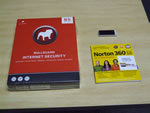 The door prize when to Joan Robertson
and here are some of our other lucky winners.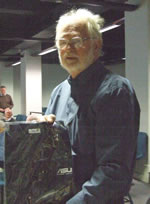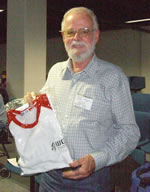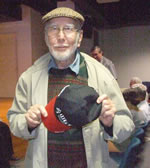 ---
Dell reveals it's latest Notebook range at June meeting

Michael Townsend made a welcome return to demonstrate a number of Dell's latest, compact, lightweight notebooks at our June Main meeting. One, the Dell Latitude 2100 which makes an ideal low-cost entry to the growing school student market was given a good workout. This new netbook has a sturdy rubberized design that is easier for children to carry and comes in a variety of bright colours.
Toshiba's latest Mini-Notebook NB200 introduced in May
Justin White, the Product Marketing Manager from Toshiba showed us the new Mini-Notebook which had only been released a couple of days. All those who were present, I'm sure you will agree the presentation was very informative and anyone who was thinking of going for one of these little handy gadgets it would be hard to go past this one.

The NB200 has great storage capacity, long battery life, integrated webcam, weighs 1.18kg, 10.1" widescreen LED backlight display, a full 19 mm pitch keyboard (desktop standard) for easy typing and also comes bundled with Face Recognition software offering an easy and fun way to log on. Bumps and knocks are cushioned with a 3D-accelerometer monitoring system which can detect free falls, shocks or vibrations.
It will come in Black, Copper, White and Blue with only black available at this stage. Pricing from $799 to $949, plus $100 cashback.
The SPCUG would like to extend our thanks to Justin and Toshiba for the great prizes that they so generously donated. Nicole Buckley was delighted to win the sparkling, newly released Toshiba Mini-Notebook NB200 with John Mathews, Reg Chasney, Bob Campbell, Grahame Payne, Dennis Campanella and Frank Bowman each winning a Toshiba 8GB Memory Stick.
April Main Meeting and AGM 2009
The meeting began with the club's AGM with President Warren Wyllie reporting another good year of achievements. He praised the great contribution made by our many SIG leaders and volunteers to the club's activities and thanked them for their continuous support. Warren especially thanked retiring committee members Alan Durham and Russell Field for their long and conscientious contribution to the club's administration. Each was then presented with a small gift in appreciation of their years of service to our club. The remaining committee members will now be joined by popular, multi-skilled SIG leader Bill Parry all of whom were elected un-opposed.
One of the major tasks Russell performed just prior to his imminent sea-change retirement was tackling the updating of the club's constitution. He did this almost single handily - drawing on his legal training. This updated constitution was unanimously approved by the meeting.
March Main Meeting 2009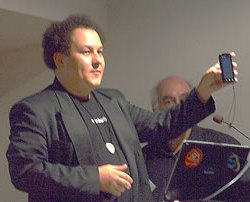 The evening opened with announcements about the AGM and our usual Q and A.
This meeting saw the welcome return of Alex Zaharov-Reutt from his sojourn in Melbourne. Alex, firstly answered many of our members questions and them demonstrated some of the amazing features of Nokia's yet to be released challenge to iphone.
---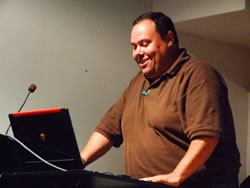 After the break Wayne Farron took the stage and started with a brief history of Professor Sennheiser and the development of his range of headsets.
Wayne is the Communications and Sales Manager for Syntec and was our guest presenter for the meeting.
Syntec are the distributors of some of the best audio equipment on the market including, Dolby, Tannoy loud speakers and Sennheiser.
Australia has a long link with Sennheiser. An Australian Mr Cunningham was the first buyer of the Professor's newly created microphones.

Recently Sennheiser partnered with William Demenant Holdings to form Sennheiser Communications.
William Demenant is a Dutch Company specializing in hearing aids. Wayne explained that the expertise in miniaturization that the company brought to the partnership has created a new range of light weight acoustically clear earphones and headsets. We then went on to look at the variety of headsets Sennheiser has from simple ear buds to top of the range professional mics and fold back headsets.
Syntec generously donated these headphones as the raffle prizes.

The HD 201 and The HD 515
Click here to view the full private audio collection.
Wayne also showed a lively promotional video with professional headsets such as these being worn by famous entertainers and stage managers.
Click here to view the full professional audio collection.
The Raffle
Wayne presented the two valuable raffle prizes. They were the HD 515 pictured here and the HD 201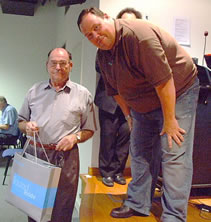 The very happy winners were:
Bob Campbell and John Symonds









---
Report on our February 26th Main Meeting
The meeting began with a Q & A session - the first via a video conferencing link to Alex who was in Melbourne. He answered a number of member's questions while appearing larger than life on the big theatre screen. Using our club's new video camera/microphone, this session was most successful with only occasional breaks in picture transmittion. No doubt we will be using this sort of technology increasingly more in future.

Todd Lewis from Citrix Online, ably assisted by member Clare Wagemans, then gave an excellent demonstrate of Cittrix's new GoToAssist software. This is a new, easy-to-use remote support solution, purpose-built for small businesses and professionals.
After quickly installing the software, Clare was able to 'see' and control all functions of the laptop belonging to a company manager in Hong Kong. She was able to move between different applications, open and close files and type and receive messages in real time. Very impressive.
Citrix have invited us all to be part of their beta community, to beta test the new GoToAssist software. Their beta tester group is currently comprised of IT, software and accounting consultants, internal help desks and others who are interested in developing the product, which our group certainly fits into.
Joining the GoToAssist Express Beta community is free, and lets us use the GoToAssist software free of charge (until the software goes gold) to help friends and family with their computer problems live over the Internet. To take part, and help make GoToAssist a better product, please visit Go To Assist
Dell's new Inspiron™ Mini 9 on show at January meeting
The Inspiron Mini 9 was just one of the latest in the Dell range of small notebooks to be demonstrated at our January main meeting. Available through leading retailers or ordered online, the mini notebook is priced a little under $550. The Inspiron Mini 9 features a 16GB solid state hard drive, 1GB RAM, Windows XP SP3 operating system, with internet connection via Bluetooth and 802.11b/g wireless. Currently available only in black, but bright colours and personalized textures are in the pipeline.
The Inspiron Mini 9 has been designed for people on the move so is light, compact, durable and easily connected to any available internet source. The Intel® Atom™ processor provides excellent performance with low power usage. The notebook is fitted with a Dell TrueLife 8.9" WSVGA LED screen which they claim has up to a 10% increase in contrast ratios displaying darker blacks and brighter colours for vivid graphics and life-like video viewing.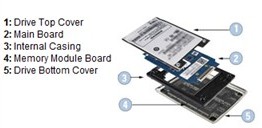 A great feature of the Inspiron Mini 9 is the acceptable size solid state drive (SSD) now offered by Dell that replaces a conventional hard drive. At an decent 16GB, the SSD drive uses only nonvolatile memory to store data instead of the spinning platters and moving heads of a normal hard drive. With no moving parts, the SSD has much faster access times, is more reliable with less chance of damage from bumps or being dropped, is whisper quiet in operation and consumes less power which means longer battery life. Learn more ..
At the conclusion of the presentation Dell generously donated the Inspiron Mini 9 as the raffle prize which was won by hard working club member Steve South.
---
Main Meetings 2008
November Meeting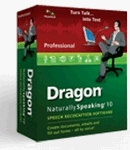 At our last main meeting for 2008, Derek Austin from Nuance Communications, Inc. demonstrated the very latest Dragon NaturallySpeaking 10 speech recognition software. With Dragon, people can write documents and emails, search the Web, and even control their PC entirely by voice, saving time and boosting productivity. Because most people speak at least three times faster than they type, Dragon makes it possible to get things done more quickly by voice than by relying on keyboards and mice alone. Dragon 10 is nearly twice as fast as the previous release and can deliver accuracy up to 99 percent, while never making a spelling mistake.
Dragon NaturallySpeaking software from Nuance is used by millions of people - in the office, at home, at school, on the road, even in the operating room - to get more done faster by voice. The new release of Dragon delivers what matters most in speech recognition - superior levels of accuracy, seamless integration with the most popular PC applications, and unrivalled ease of use - and introduces new features that promise to help anyone get more done, faster.
Derek was thanked for his excellent presentation and for donating a copy of the Dragon NaturallySpeaking Professional software and other programs as raffle prizes.
---
Netcomm displayed their latest wireless routers at our September Main Meeting
Netcomm's General Manager, Danny Morrison described a number of their latest products including this N3G002W 3G Router which was presented as the meeting's raffle prize. He explained that a 3G connection can now be shared using either a 3G PC Card or USB Modem to set up a wireless or wired 3G network, with NetComm's latest N3G002W 3G Router.
Remote offices and home users can take advantage of a single 3G connection to create a wireless network that can be shared between multiple users, using either a 3G PCMCIA card or USB Modem. The N3G002W protects devices on your network by employing an advanced SPI Firewall with the added safety of WEP, WPA or WPA2 for Wireless security.
Other topics including President Warren announcing a new membership drive, Robert presenting his Favourite Sites, Alex answering questions via video-link from Melbourne, filled another very interesting meeting. 'Lucky' Malcolm won the Netcomm wireless router!
---
Another Great Presentation at our August Main Meeting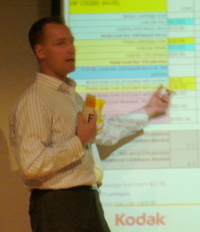 This month's main meeting was the presentation by David Santer from Kodak. David gave an overview of Kodak's products he thought we might find interesting. Firstly there were the Digital Picture Frames which come in several sizes and are available in photo, multimedia and wireless. Great present for Father's Day or just to keep your treasured photos on show. Next was the Kodak Value Packs which save up to 50% on everything you print compared to similar consumer inkjet printers (5-ink color cartridge just $24.99 rrp, black just $14.99 rrp). Kodak only uses pigmented inks that produce photos that last a lifetime (120 years - do we want to live THAT long?).
The four available printers were given a comprehensive overview and if any member is interested in purchasing one go to the Kodak site and check them out http://www.kodak.com.au/
David did play 'Santa Claus' and arranged for a KODAK ESP 3 All-in-One Printer to be delivered to the winner of the raffle, John Burton. You may call John 'Lucky John' as it was mentioned prior to the drawing of the raffle that a recent prize had been a Toshiba laptop computer - won by John Burton!
---
Main Meeting Reports:
March Main Meeting including the 2008 AGM & Toshiba Presentation
This well attended meeting began with a short general discussion and Q & A session with the aid of our on-screen remote Fixit-Guru, Azex Zaharov-Reutt. He was able to answer a number of queries and suggested possible solutions for others.
The AGM followed with President Warren Wyllie report on another successful y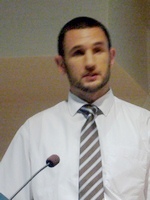 ear of operations. He advised our finances were in good shape but suggested we need to attract more new members. During the election of officers for the forthcoming year, all existing committee members returned unopposed. However, they will now be joined by our first ever lady committee member Elaine Rush who was warmly welcomed and is certain to bring fresh new ideas to future meetings. Then it was time for a short break to enjoy some cheese and bikkies washed down with a glass of red.
Matt Tumminello, Toshiba's Product Marketing Manager, Australia & New Zealand then gave an excellent presentation on some of their latest range of laptops. These included their current Portege R500 business notebook featuring an optional 64GB solid state drive. With the SSD drive, the Portege R500 weighs less than 1kg, making it the lightest 12.1-inch widescreen notebook available. Solid state drives are more shock resistant and are quieter than traditial hard disk drives.
Matt described the NAND-flash-based solid state drive (SSD) including other products featuring multilevel-cell NAND flash memories. They are produced in a range of form factors and densities, with Toshiba's solid state drives designed primarily for notebook PCs. Other SSD advantages include small size, low power consumption, a fast boot time, and very lightweight.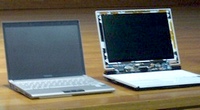 The main disadvantage is their higher cost compared with traditional hard disk drives at this time. He also mentioned 128GB and 256GB capacity solid state drives will be available later this year at more competative prices.
Matt was thanked for his very professional presentation and for Toshiba's generous contribution of a new laptop as the main meeting raffle prize.
---