Welcome to the May 2016 Main Meeting
This May we were lucky to have two presenters to demonstrate two very different products.
First up was GoCatch, an Australian ride share company to rival Uber.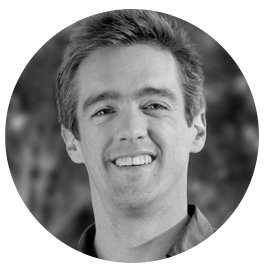 Ned Moorefield, co-founder and CEO of GoCatch, took the stage to detail this Australian innovation in the ride-share market. GoCatch was founded in 2011 as a taxi booking service with its own Australian designed software.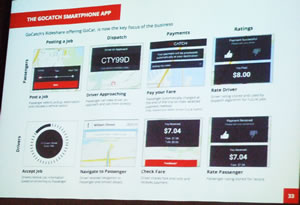 Ned and his co-founder saw a real problem with the existing taxi service and the GoCatch software was their solution. Ned drew our attention to problems the taxi industry has, such as poor maintenance, poor drivers, high cost, and an industry with no focus on customer service.
GoCatch was out to give customers a better deal. As it evolved they added GoCar, their ride share answer to Uber. GoCar's rates for this private vehicle option are 35% less than a taxi in off peak and 15% at peak rate. View the rates

GoCatch is rigorous in their approval of private vehicles joining their GoCar fleet. The car will not pass muster if it has any dents scratches etc., and is subject to a full vehicle inspection. To join the car must be no more than 9 years old and have travelled less than 150000km. The drivers are also rigorously checked. All drivers are seen at North Strathfield along with the car they wish to use. They must bring their RMS driver history and enough ID so a police check can be made.
At the North Strathfield centre they fill out a questionnaire, view a training video and have their driver history reviewed. GoCatch will not accept anyone with a criminal history or poor driver record. They then receive full training in using the GoCatch software. No one is allowed out without a full understanding of the GoCatch customer service policy. Asked if the drivers knew their way about, Ned told us of the navigation build in to the software. GoCatch has turn by turn navigation, which directs a driver to the customer, to the destination and home if needed. Drivers had ideas about the maps they liked, and a popular one was Waze.

It was a crowd sourced navigation system making it a good alternative for location and problem avoidance. As the software developed, GoCatch included support for it.
As a customer, the GoCatch app shows you which car is picking you up, where it is, and approximately when it should arrive.
The other major difference Ned mentioned was that with ride share they don't tell the driver the destination until the customer is picked up. This avoided the cherry-picking that goes on in the taxi industry and while GoCatch had to allow destinations in the GoCatch taxi service, with GoCar the driver cannot cherry-pick. Destinations are a real problem for taxis as the industry has set change over times and as Ned said "it's a pain in the neck" even for drivers as they need to be back at base by 3 am or 3 pm. As Ned pointed out it, was another example of the industry not focusing on customer service. As a private driver you choose the time you work, the "change-over " is not a problem.
For drivers,GoCatch takes a 15% profit share while Uber takes 20%. If you are interested in becoming a GoCatch driver Ned would like to hear from you. This is the criteria you need.
Ned spoke about the difference between GoCar and GoCatch. It is the one app but as a customer you can choose if you would like a ride share a taxi or a maxi-taxi. It tells you which car is coming, estimates your cost, and at the end tells you how much you have paid.
Taxis on GoCatch cannot be ride-share and the payment methods are a little different. If you use a taxi you can pay cash, credit card or cab charge but with GoCar you supply your credit card details and no cash is used. On a question about surcharges Ned was quick to point out that surcharges in NSW are capped at 5% but with GoCar the pricing which GoCatch has calculated includes any charges for using a credit card.
On insurance, all cars have the compulsory third party (CTP) insurance. Ned assured us that any customer would be covered but GoCatch encourages drivers to take out ride share specific insurance. GoCatch also has an umbrella insurance if the driver's insurance has a problem with ride share. The NSW government now requires ride-share drivers to have business registration, which pays a higher CTP, and have a driver authority card.
After the break we had Claude Brown from Vividwireless to explain this unique ISP.
A little bit of history. Vividwireless started life as a company called "Unwired" selling a wireless network in both Sydney and Melbourne. Unwired used Nivini technology on the 3.5 Ghz spectrum. It was taken over by the Seven network in 2008 and Vividwireless was born. Vividwireless opened in 2010 in Perth using WiMax technology on the 2.3 band width, and started to offer unlimited download plans. The CEO believed that what customers really wanted was certainty, not having to worry about exceeding their limits or being slowed down for using excess data. Then in 2012 Optus purchased the ISP from Seven, thereby acquiring both the 2.3 and 3.5 Ghz spectrums. That gave Optus the spectrum they needed to create the Optus 4G network. They then shutdown the old Unwired network in 2013 and Unwired customers were moved to the new Vividwireless. On the 5th April this year Vividwireless customers gained access to the 4g LTE network with a new modem and faster speeds.
Claude then spoke about the technical history of Vividwireless. Starting with the Nivini wireless technology, Unwired's famous "Rabbit ears".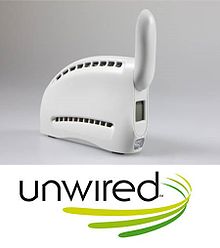 Nivini was a proprietry company based in Texas. To quota Claude "you were either on Nivini or not" the network stood alone and did not interact with any other system.
With Channel Seven's take over, Vividwireless transitioned to WiMax. The modems were made by Huawei. The WiMax technology was invented by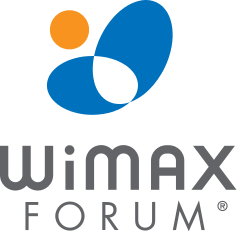 the WiMax Forum as a completely new system to rival 3G but the technology lost out to the LTE standard. LTE stands for "Long Term Evolution". Why LTE? Claude is still wondering; but the benefits were clear to see as the he went over the details in the following slide.
When Optus took over Vividwireless they offered a 4g LTE service.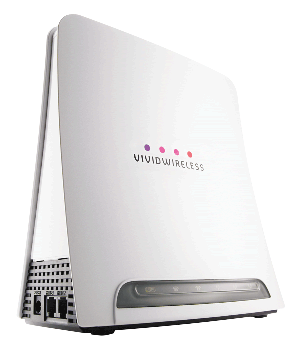 The modem has 4 Ethernet ports, one USB and broadcasts on the 2.3 kHz wireless band. Details. The cost is $199 or free with a 24-month contract. Data speeds you can expect are 10 Mbps down load and 1 Mbps upload. Coverage is depended on factors like terrain. Claude just moved house and found he had no coverage as the house was on the lee side of the hill, blocking the signal.
Vividwireless launched LTE in the five major capitals with three packages. 10GB at $29, 40GB at $59, and Unlimited at $89. Eighty-five percent of their customers choose the unlimited plan.
You can purchase online, at Harvey Norman or the Good Guys. There is a $10 delivery fee if you order online. Support is by phone Monday to Friday 9 to 10 pm or 9 to 9 pm Weekends and Public holidays.
One of the key points Claude made was the simplicity of the setup. Vividwireless was determined to make it as simple as possible. Out of the box, plug in the power, connect to the computer and turn on, answer the questions and you are online. The process should take around ten minutes.
Speaking about coverage Claude directed us to the web site which has a coverage map and you can check if Vividwireless is available. In determining coverage Vividwireless has few tools it uses to make sure you can get a good service, including congestion management which looks at the number of users on a tower and predicts if you would have reception give the number of users in the area. There is no "nudge nudge wink wink" in the coverage check. The company does not want disgruntled customs they would rather say "no" than have you buy a system that doesn't work. So they also offer a money-back guarantee and on the LTE network the claim rate is close to zero.
The Raffle
GoCatch gave out a $20 new user card for each member who attended and Ned also gave out a $50 GoCatch voucher.
While Claude had two Vividwireless phone chargers and several great shirts.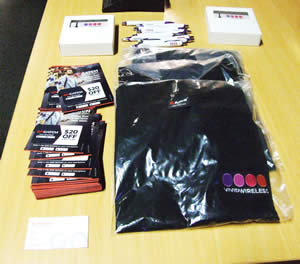 We tried out a new electronic raffle draw this month.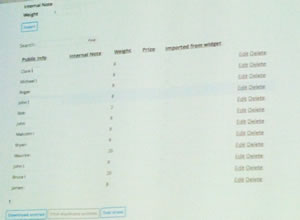 Here are our some of our winners
and our door prize winner