May 2017 Main Meeting Report
Tonight, our presenter from Armourcard had to cancel at the last-minute due to illness so Alex stepped in with a great discussion on various topics.
However, before the proceedings started Fred Scott our longest remaining member presented Alex with his President's badge.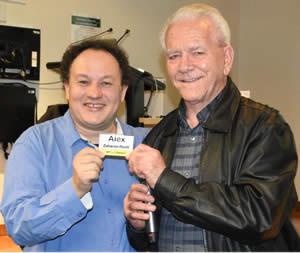 Following on we had a look Telstra and the problems Alex's relatives had when their e-mail was turned off before its due date. That meant they could not get forms signed and other legal work completed.
We had a few reports on CeBit which started that day. Of note was the driverless cars from Volvo and the keynote addresses were of interest. I went on the last day and I discovered Voxon

a South Australian company developing a true holographic imaging computer. It was amazing. You could see the graphic from four sides and from above. The image can be rotated so it can be viewed from any angle including underneath. I watched the wave demo below and could see the wave motion from above and from the side, how little movement there was below the water surface. The images can be generated from any standard 3D printing file.
Here is a link which describes the technology behind the image.
We went on to talk about the new MSN Channel 9, not to be confused with NineMSN. This is a Microsoft Development channel with all sorts of tech information and development videos.
We discussed the Wannacry ransomware and how if you don't turn your infected machine off then you may be able to recover your files using either the wannakey or wannakiwi reset tools. See this ITWire article.
How to avoid the problems of ransomware?. Alex spoke of the 3-2-1 rule. Backup to three places, two can be in your house or work and one either off site or in the cloud.
After the break, we looked at two videos on YouTube. The first was on the release of Windows 10 S and the new Surface Laptop.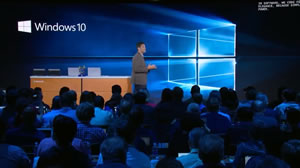 To quote Microsoft
"Windows 10 S is streamlined for security and performance, and works exclusively with apps from the Windows Store"
Editor's note: I read an article on Windows 10 S which said that as it is designed for apps that run only from the Windows Apps Store it will not run Google Chrome.
The video is a ten-minute roundup of the Windows 10 S and Surface event which launched the new Surface Laptop. Here's the link to Microsoft site.
It included some great announcements. Microsoft is going to offer the full Office suite on the app store and Code builder for the Minecraft education edition.
That was followed by this video called Google IO in ten minutes.
This was a video on the Google developers conference and highlights new features we can expect from Google and Android. They include Google Lens and Android Go.
Google Lens "is computer-vision photo tech that can recognize what you're looking at and take actions based on what it sees" while Android Go is "a version of Android that's less demanding and intended for budget phones beginning in 2018"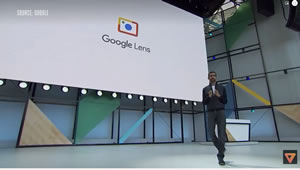 To finish we had a look at the Kogan Projector our secretary Josephine purchased.

Unfortunately, it has now sold out but it was half the price of any comparable projector.
The Raffle
Tonight, we had a diverse range of goodies,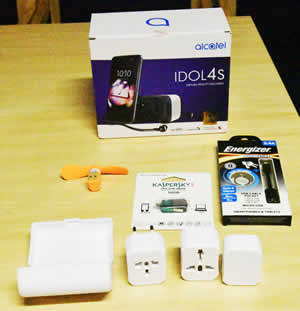 including the Alcatel Idol 4S, a 4G android phone with its own VR headset.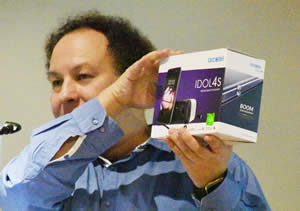 Our winners