Welcome to the November Main Meeting, our last for 2013.
Starting the proceedings, Robert ran a tutorial on networking hard drives for storage: comparing the two main contenders SAN (or storage area network) and NAS (or network area storage). Here are the notes. In the discussion that followed Christopher pointed out that you didn't need the fancy storage bays etc, that you could use an existing computer. In a break from convention we then went straight to our main presenter.
For our final meeting for the year Alex arranged for Matt Hayer and his team from Dell to come and show us some of the new innovations on offer.
Matt started with the new XPS 11 Convertible.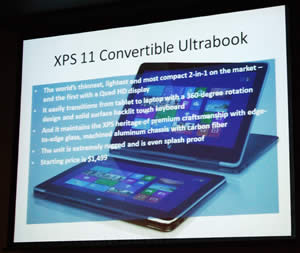 In the XPS we see the combination of laptop and tablet with a keyboard and a touch screen that can be positioned on top of the keyboard to act like a tablet.

With a four-in-one display arrangement and solid state drives, these Dells are designed to be solid. To demonstrate the rugged construction Matt dropped his demo tablet.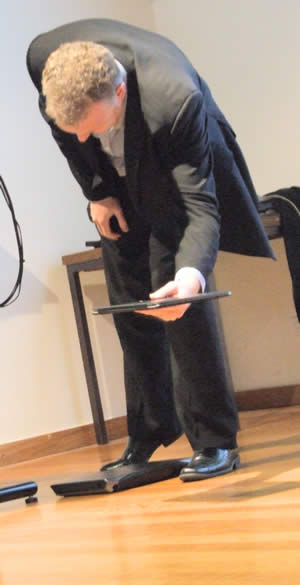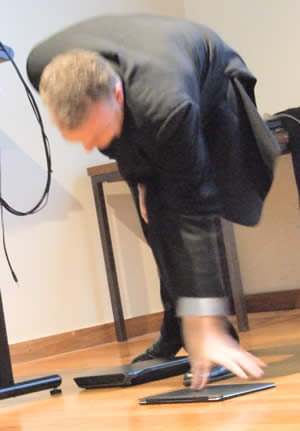 Not the most successful demonstration, it would not restart. Around 5 minutes later however, it had recovered and come out of hibernation without a problem. I guess the moral is; if it falls its construction should allow it to survive but don't do it try it for fun.
Next up Matt introduced us to the new Venue Tablet.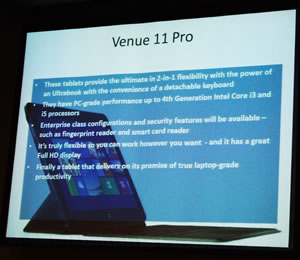 Unlike the XPS these are tablets not convertibles, however you can get accessories such as clip -on keyboards, covers, and a stylus.
Dell has always been on the lookout for innovative companies that can enhance the Dell product range. Two such companies they found were Alienware and Wyse.
Alienware was a company formed to provide a niche market for gaming computers. Dell acquire the company in 2006 and continued to market Alienware as the ultimate gaming computer product.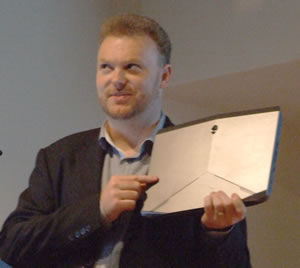 Alienware laptops come with some serious grunt. There are three sizes 14", 17", and 18". All have 4th generation i7 chips, and between 8 and 32 GB of memory and 750 GB to 1.5 TB hard drives. The display is driven by NVIDIA® GeForce® GTX with cards ranging from a 765M 1GB to a 780M with 4 GB. They all have 5.1 high definition audio with Dolby home theatre software and come with a SuperMulti DVD/RW and Blue-ray playback. Compare the range.
They are not for those who like a lightweight or slimline machine. Matt pointed out that most of the weight was in the cooling system that allows the high powered performance needed to run both the 2D and 3D gaming graphics.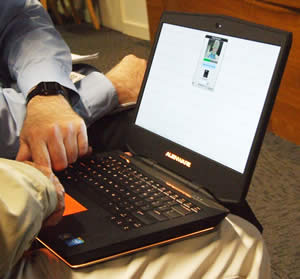 The other company Dell recently acquired was WYSE, renowned for their networking hardware and software.
Tonight Matt introduced us to WSYE PocketCloud
- a new application that synchronize all information across all your devices.
It comes in three incarnations; as a remote desktop which connects all your device, Explore, which allows you to view windows and mac files on your android, and a subscription web browser to explore your devices. The best thing about PocketCloud is its' free for single use.
It comes in Android, iOS versions and windows.
Attached are three videos on PocketCloud, Explore and Web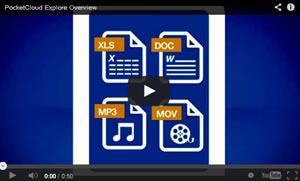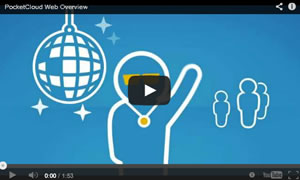 There is also a PocketCloud Pro version which connects to multiple computers and has a higher encryption.
After the presentation we had our end of year party.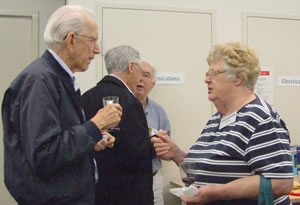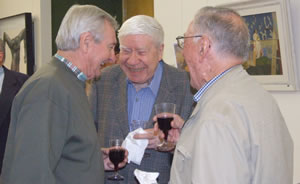 Raffle
Thanks to Dell we had some great Alienware raffle prizes including Games software, a mouse and headphones.
Our winners were Robert, Steve and Terry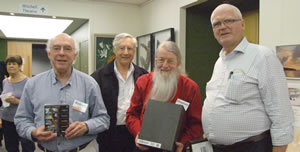 with
Joan taking home the door prize.
We hope you all have a great Christmas and New Year break and we will see you all on the 28th January for our first Main Meeting of 2014.