Welcome to the October 2016 Main Meeting
Tonight, Jabra and ASUS dropping by to talk to us.

and

Jabra was first on stage with Matt Segafredo, Senior Director of Sales, ANZ Mobile to tell us about the company and its range of audio gear.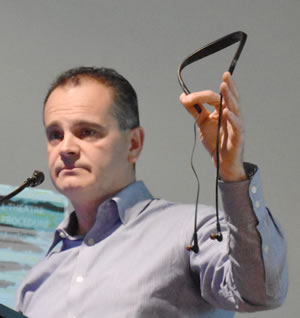 Jabra is owned by the GN Group of Denmark. They have a long history in communications being the first company to lay a transcontinental telegraph from China to Europe.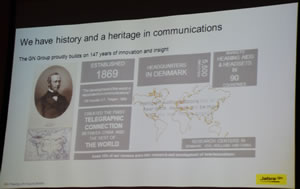 The group has a long involvement in the hearing aid business, first acquiring ReSound an American hearing aid company and in 2000 it acquired Jabra headsets.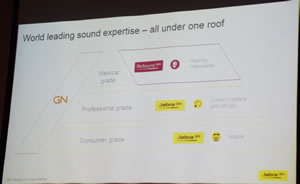 Now the company could combine their advanced hearing aid technology and new audio technologies to create a great synergy of expertise between the various audio needs of the group. With Jabra becoming part of the GN Group of companies, the group now had intelligent audio expertise in consumer, professional and medial fields, all under one roof.
Developments in hearing aids technology or new designs in speaker or headset technology can easily be transferred across the group.
Matt spoke about how Jabra understands sound, hearing and speech. To paraphrase Matt "when we speak or we hear we want assurance we have been understood". With the growth of Siri, Cortana and other voice control and search engines, clear speech is even more critical. To show Jabra's credentials in Audio development Matt show a slide indicating the number of world firsts the GN Group has achieved.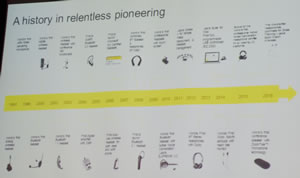 In 1991 they had the first active noise cancelling headphone, in 2000, the world's first Bluetooth mic and headset, and in 2014 the world's first Dolby sports headphone with integrated heart rate monitor.
Matt detailed how Jabra' expertise was driven by the idea of "Hear More, Do More, Be More"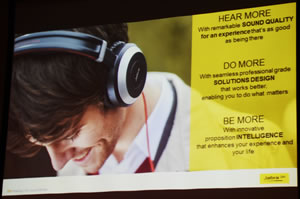 expressed in the company saying "We transform lives through the power of sound". The idea is that if people can hear more through good sound quality then they can do more and learn more. Some examples Matt spoke about were, how a quality hearing aid sound enables solid communication, how clear stereo headphones which reproduce the effect of a live recording can increase your listening pleasure, or the development of sound systems for sportswear can now include items like heart rate monitors or pace counters.
Jabra believes it has "Intelligent Audio Solutions" for all audio problems.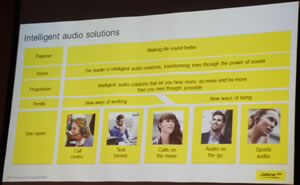 Call centric, business solutions; tasked based solutions and audio on the go solutions all tailored to improve speech, audio, or sport enjoyment.
The Jabra web site menus tell it all.


Music headsets including wireless and Bluetooth options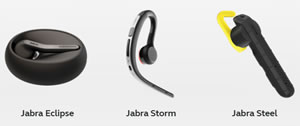 Calls on the move are becoming a priority with lots of businesses. The Halo series comes in Bluetooth models and of particular interest was the Jabra Eclipse. The Eclipse is light weight single ear piece.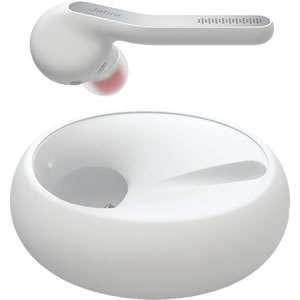 The case also acts as a charging pod giving around three full re-charges. Matt believed you could get a week of travel before you needed to charge the pod. Thanks to Jabra the Eclipse was a major prize in our raffle.
The Sports range including the Elite Sport ear buds built on hearing aid technology and Sport Pulse and Pace headsets combine music and fitness measurements.

Matt then moved on to demonstrate some of Jabra's quality products.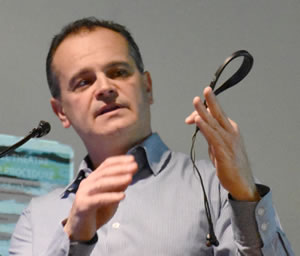 Starting with the Halo range, here Matt has the Halo Smart with 17 hours of talk time and 15 hours of music in one charge. It has a magnet clip built in to stop it sliding off the neck. The magnet also acts as phone pick up. Unclip the set and the phone answers, to hang up simply clip the ear piece together. This model has dedicated buttons for Siri and other voice operated systems, volume controls with full stereo and wind noise cancelling mics.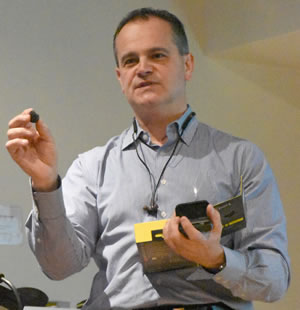 Matt also introduced us to the new Sports Elite ear bubs. Matt had one of only two in Australia to show us. Again, Jabra is bringing hearing aid technology across to sports ware including true wireless technology with dual mics in each bud for stereo sound. They come with a carry case which has a built-in charger, multiple ear gels for a comfort fit and 9 hours of battery life. But these are not just ear phones. They will also take calls from your phone and with wind cancelling technology they can detect the true source of the sound e.g. your voice. You can also use one rather than both and if one is lost you can be replace it.
ASUS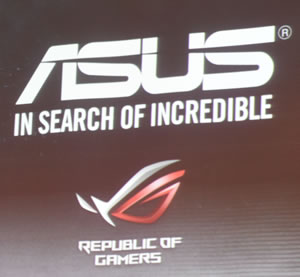 After the Break ASUS joined us with their new range of Laptops including the renowned Republic of Gamers (ROG), ASUS's dedicated gaming laptops.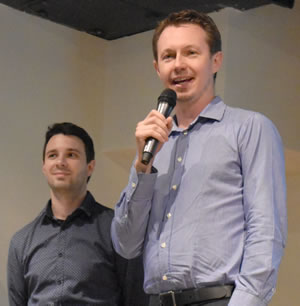 Lorin McDowell, the Head of Marketing ASUS Australia and New Zealand and Tech Specialist Alex Ciobanu were on stage along with a range of products for an entertaining talk.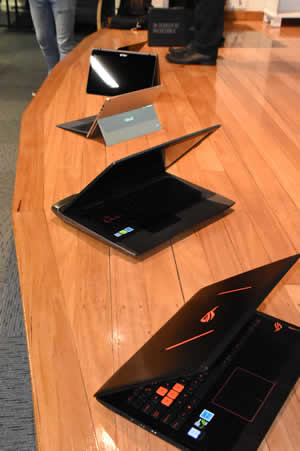 The company was formed in Taiwan in 1989.
Have you ever wondered where companies get such strange names from? Well ASUS was named after the winged horse of Greek mythology Pegasus.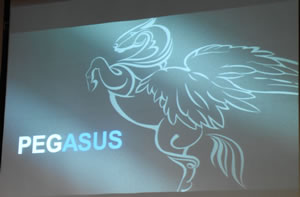 While Lorin spoke briefly of the history of the company, Alex started unboxing the TP200, the raffle prize ASUS had generously donated. Alex's unboxings are so popular on the ASUS Facebook page that his number cannot be revealed.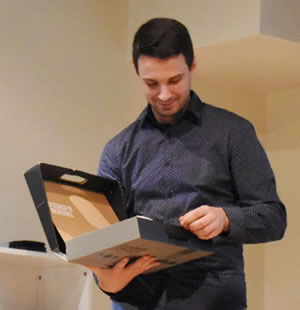 Lorin then told us about the TP200. It's a 2 in 1 being both a tablet and a laptop. You can fold the screen all the way around, from closed to open flat against the keyboard.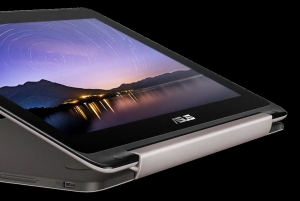 That makes it a great student device. It can be used as a laptop with the keyboard for work and e-mails, fold it like a tent for presentations or go full tablet by folding it open. Once folded open the keyboard locks and it goes into Windows tablet mode. At around $399 this model comes with 2 GB of ram, a 32 GB hard drive and a Mini SD slot with a 32 GB card included in the package.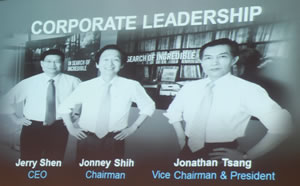 The company was founded by three young guys looking of a chance to "put their passion into their products". Some of the designs like the ROG models are inspired by high tech designs like the F16 and the Lamborghini.
The company moto is "in search of incredible", seeking innovation in technology. ASUS is a diverse company building most components like motherboards, video cards, monitors, along with their range of laptops and tablets.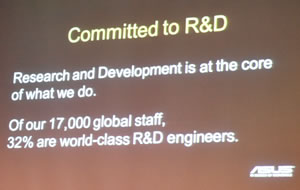 All their product development is driven with the idea that the product will be cutting edge with 32% of ASUS staff in research and development. This has made them number two worldwide for notebooks, and number one in gaming technology in Australia.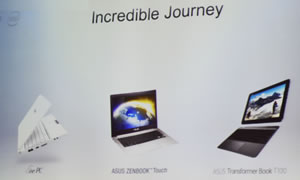 ASUS produced the first "netbook" the EEE PC. The precursor to those mini laptops we see today and grandfather of the TP200. The Sydney PC User group was one of the first groups to whom ASUS demonstrated the EEE PC in January 2008.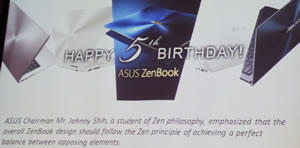 This development continued with the Zen Book. The Zen brought the big, heavy notebook out of the dark ages. It's design concept was to be ultra-thin and ultra-powerful and with aerospace grade aluminium alloy making the Zen 50% stronger than ordinary aluminium cases.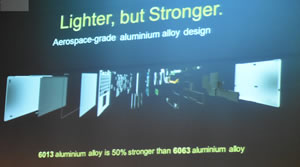 The latest Zen Book is the Zenbook 3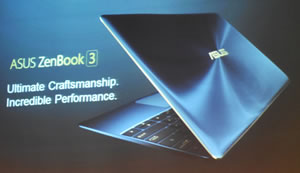 It's 11.9 mm at its thickest point with a core i7 processor and full size keyboard.
The Zen was followed by the Transformer series with the detachable keyboard to "transform" the devise into a true tablet while keeping the usability of a 2 in 1.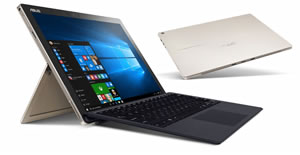 ASUS Transformer 3 Pro T303UA
After Lorin's brief history, Alex took the stage to discuss the technical details of the latest ASUS offerings.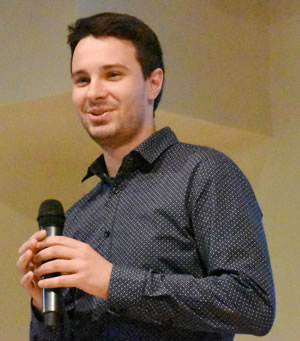 Starting with the Zenbook 3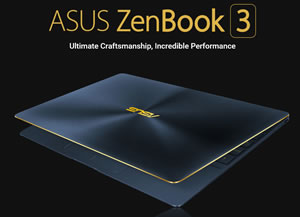 Alex remarked on innovations like the .3 mm cooling fan. The blades are only .3 mm thin with the heat pipes coils only .1 mm thin.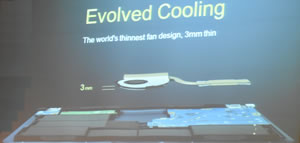 The other specifications include a 12.5-inch screen, full size tactile keyboard with .8mm movement giving a nice tactile feel. It has a core i7 with 8 GB ram and 512 GB SSD hard drive and is only 910 grams. Security features include a finger print scanner and face recognition for Windows 10 Hello. It Retails at $2699. The battery takes up about two thirds of the space under the fan giving up to 9 hours' usage and it has a quick charge up to 60% in less than 50 minutes. It can't be replaced but Alex indicated it should have a life span of between five to ten years.
We moved on to the Transformer range.

This series is known as Transformer because it turns regular laptops into tablets. The TP200 (See above) being the baby has a swivel tablet where the keyboard sits under the screen while the others of the group have detachable keyboards
In pride of place is the Transformer 3 Pro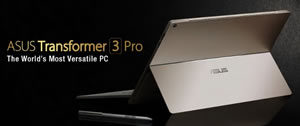 like the Zenbook this machine was a recent release.
It has a kick stand in the back and the removeable keyboard. The tablet alone is only 8.35 mm, its run by a Core i7 with 16 GB ram a 1 TB SSD and weighs in at only 790 grams. Alex spoke about the cooling. In this mobile, the cooling is undertaken by liquid vapour chamber were the liquid turns into a gas as it heats up and a 3mm fan disperse the heat out of the machine.
Alex then moved on to show us the two ROG gaming devices they had brought. This is some serious hardware! For starters, all the ROG laptops have desktop grade video cards, I had considered a gaming laptop when I was looking to upgrade my laptop for photographic use, because of they came loaded with memory and high-end graphics. I was pleasing to hear our presenters note that these machines are not just for games but lend themselves to activities like video production.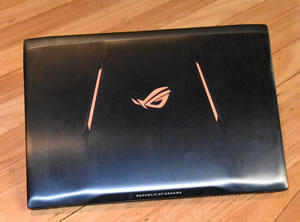 The GL502 is truly portable with a carry weight of only 2.2 kg. It comes with either an i5 or an i7 chip with between 8 to 16 Gb of ram and a choice of either a 1 TB drive or 128 to 512 SSDs. The NVIDIA GeForce GTX 1060 graphics card is virtual reality ready so you can pop on a set of goggles and fly, or drive or dive? The screen is 15.6" backlit with either a UHD or FHD resolution.
All the keyboards in the ROG series are all backlit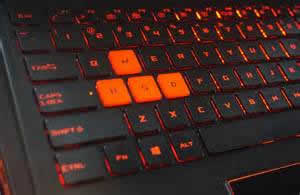 On the other end was this "beast", the G752.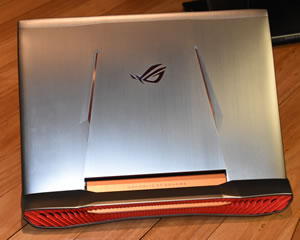 It's web page boasts" World Domination". Powered by a 6th generation i7 chip with Skylark core and up to 64 GB of DDR4 ram. It uses the NVIDIA® GeForce® GTX980M graphics card and is cooled by two fans, the outlets for which can be seen as the red blades at the rear of the device. This monster weighs in at 4.4 kg.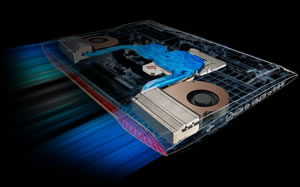 We all had a look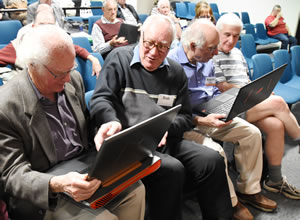 and you can get a feel for the size of the G752 as it is pasted around.
The Raffle
Our presenters were very generous tonight.
Thanks to Jabra we had three Jabra Eclipse Headset valued at $199 each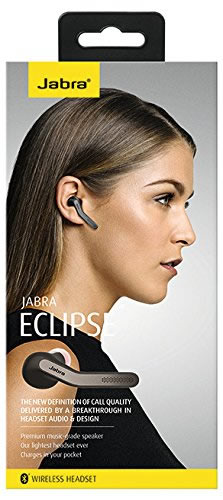 Our three winners

And Asus donated a TP200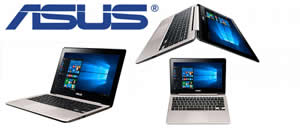 Our Winner