October2019 Main Meeting
Tonight

and

HMD Global the new home of Nokia paid us a visit.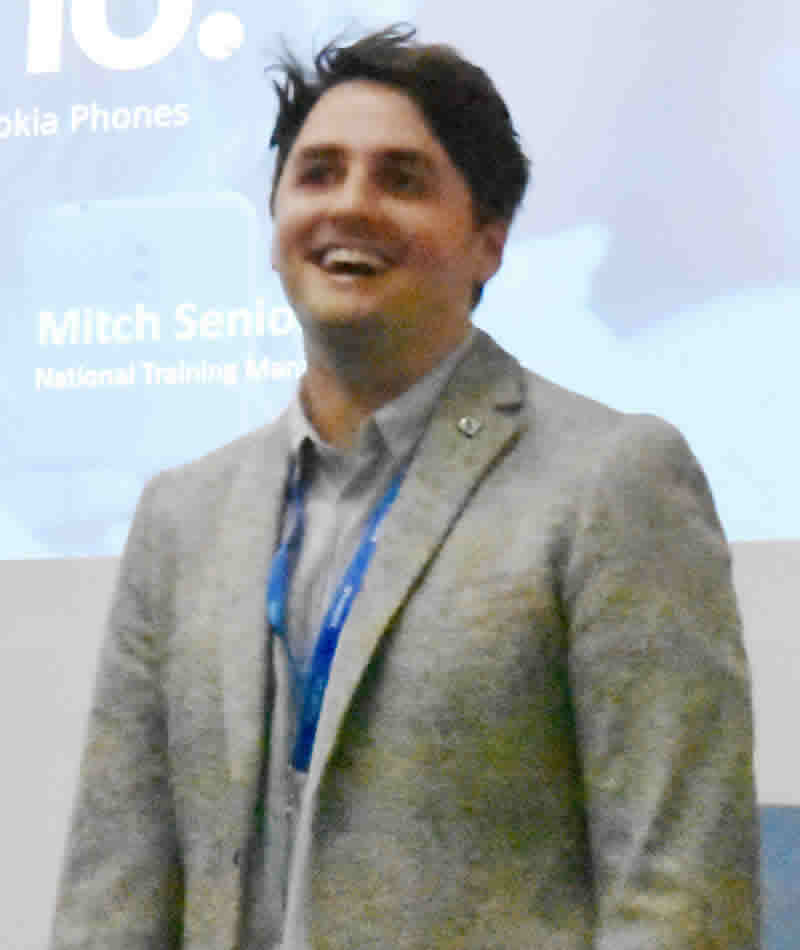 Mitch Senior, the National Training Manager at HMD Global, gave us a great information session showing us the new range of Nokia Smartphones and Feature phones.
Never heard of HMD? Well Mitch started with a run down on HMD. It was founded around five years ago by a group of people from Nokia and Microsoft who believed they could bring Nokia back to the pre-eminent position it once held.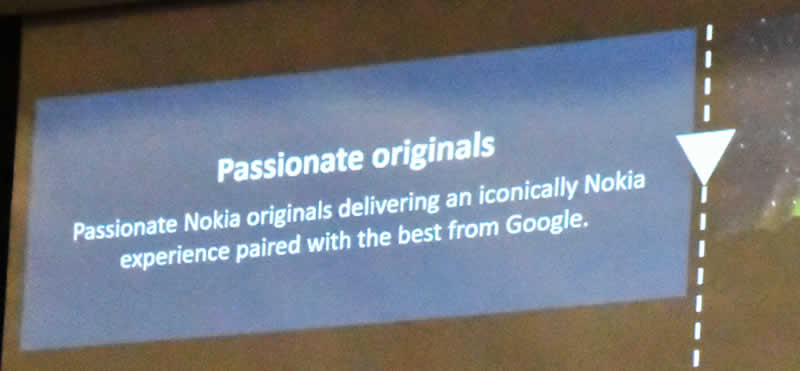 It was founded in Finland
the original home of Nokia, after purchasing the licencing rights from Nokia to build Nokia branded phones. HMD also partnered with Google to bring the best blend of hardware and the latest Google Android OS.
HMD have been in Australia for around two and a half and they have regained their number one position as a feature phone maker. Most people would remember the Nokia 3310 or the Nokia 2720 flip phone. As Mitch explained a Feature phone is a non-smart phone, but it's not just a phone.
It was pointed out from the room that, before smartphones, feature phones were the smart phone. Feature phones could be e-mails, take messages and even broadcast FM radio. Nokia has built this range because it can see that there is a market for simpler phones for children and others who either don't want, or in some cases don't have, internet access. However, they are not dumb either, Nokia has tailored apps for these phones so if you must have Facebook, you can still. The 2720 flip has an SOS button. If the owner has an accident it can be used on loud speaker to call up to five contacts until one answers and send a message all five contacts.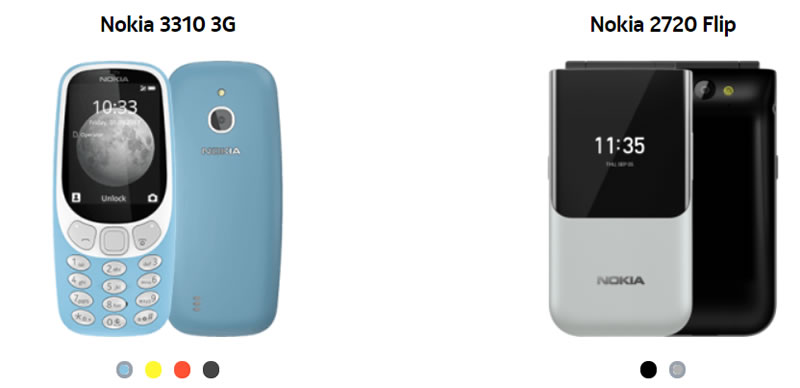 Worldwide there are twenty-seven smart phones available.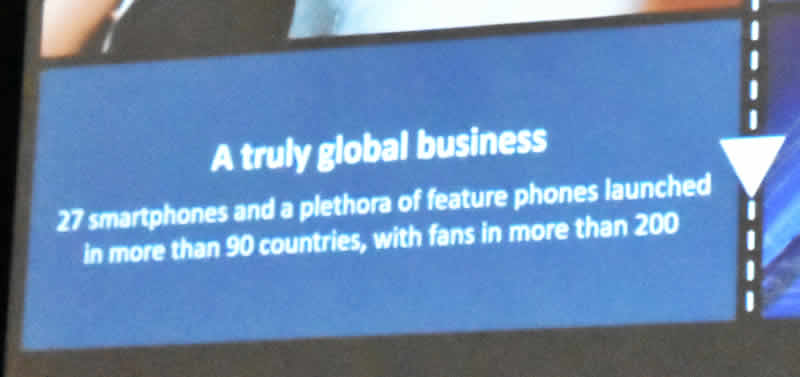 In the two and half years HMD has been in Australia and New Zealand they have gone from three smart phones to a range of ten or eleven available.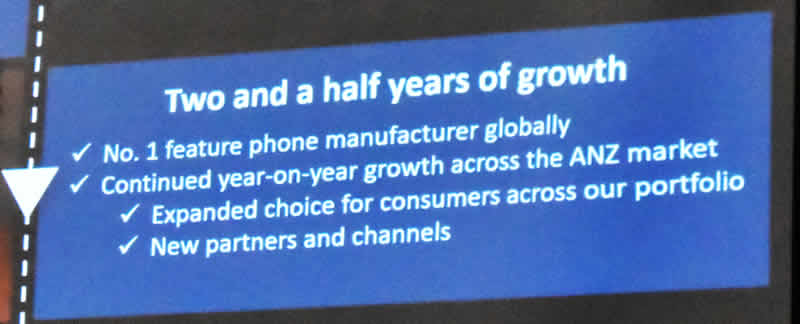 These phones are available across a range of price points from $150 to $1199 for the Nokia 9 PureView, our prize in tonight's raffle.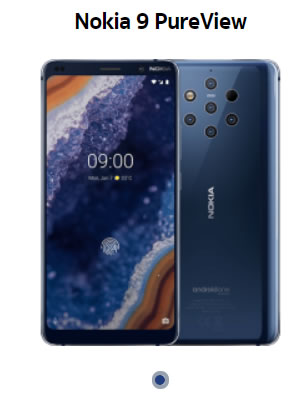 There are four key pillars for Nokia.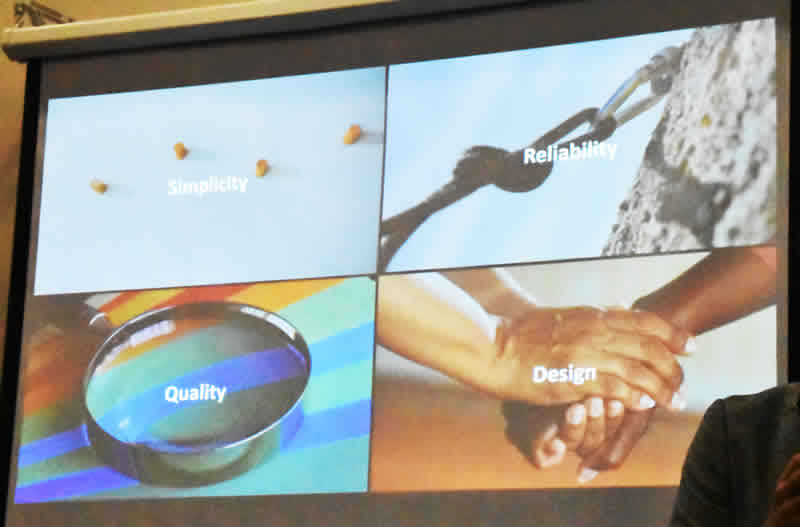 Simplicity, Reliability, Quality and Design. Simplicity was for Mitch a bare bones approach. How many times have people purchased a phone to find loads of games and other unwanted software using most of the precise memory? For Nokia the approach to software is to quote Mitch "it's everything you need and nothing you don't". Nokia has gone for simple but bold designs with colours that match the Scandinavian roots of Nokia. Quality is a byword of Nokia, Mitch joked about the humour around Nokia phones, how you don't put a case on a 3310 - it will break the floor. Instead you need a case on the floor! The Finnish design ethic is reflected in the simple design with an acknowledgement of the human touch and feel. The needed for a phone to feel right in a person's hand.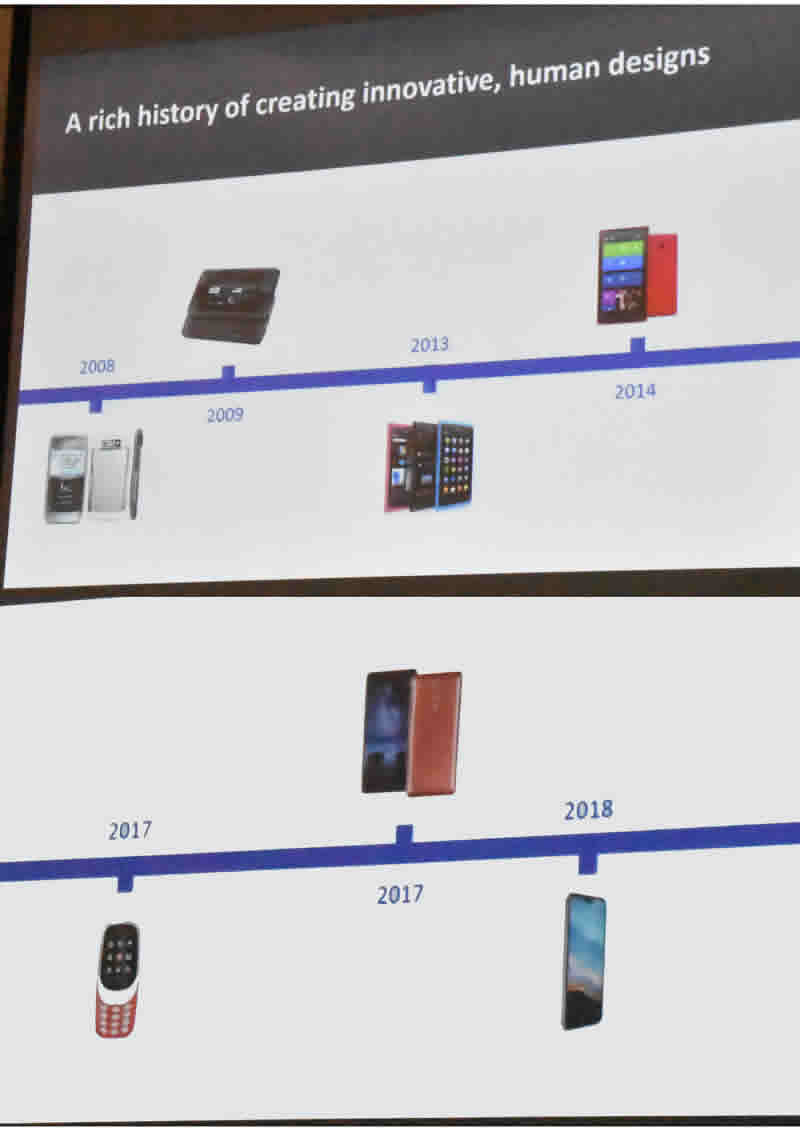 Mitch then spoke about the partnerships Nokia has formed. CGI is a data storage and the partnership has allowed Nokia to move their data back to Finland.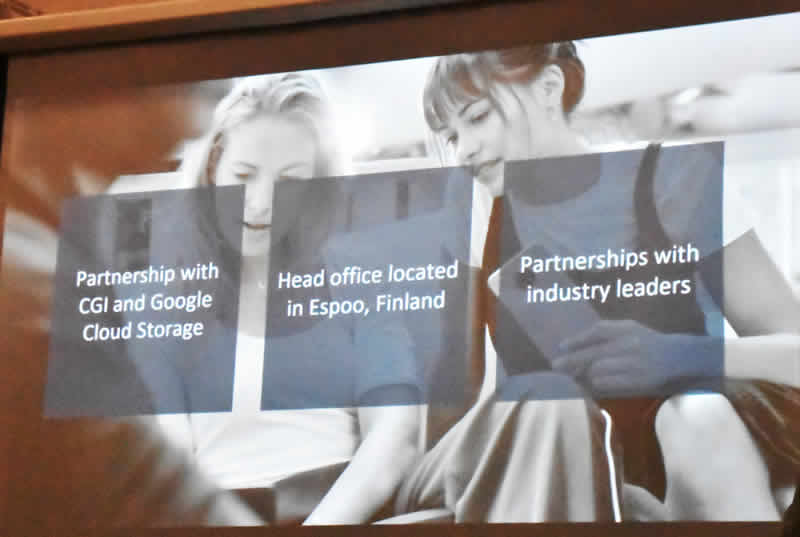 That means all the data is under the protection of the EU (European Union) with all the privacy and consumer securities the EU provide. Their head office is Espoo Finland and they have partnerships with great companies like Zeiss Optics and Qualcomm for their chipsets.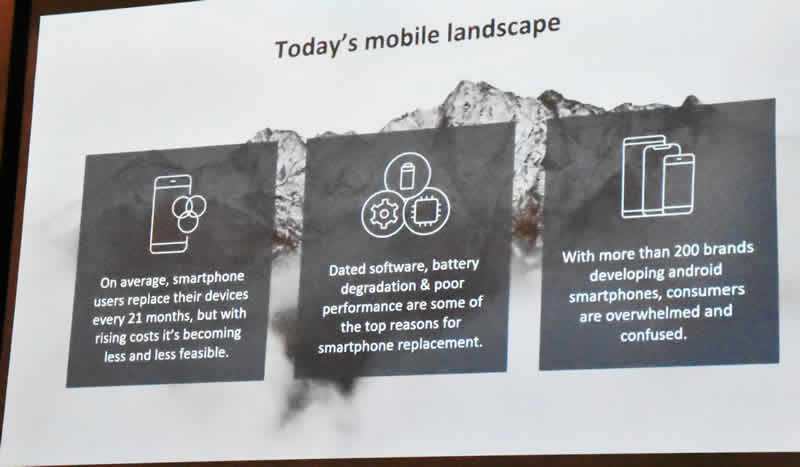 The mobile sales pattern is changing. On average phones were replaced around every two years but as the cost of the high-end phones rises that replacement cycle is widening. The main reasons most people buy new phones is the performance things like degrading battery life and a failure to get updates which leads to poor performance. Also, there is an overwhelming range of phones to choose from.
Then there is Apple.
One Operating system, one maker. Then there is Android with a whole range of phone makers. Statistically most people stick with what they know when considering a replacement. For most people it's not specs that count, its more intangible things like how it feels, the way it looks, its ease of use, what they are already used too, what they are familiar with. Mitch spoke about a survey one company made when it was going to upgrade its hardware. They found most of the employees used iMessage and if someone in the company used an Android device it showed up in iMessage as a green bubble. Apparently, the android users didn't want to look inferior to the others who thought of Apple as the superior device.
For Nokia that familiarity was one of the reasons to go with Android. There are three key points for Nokia:-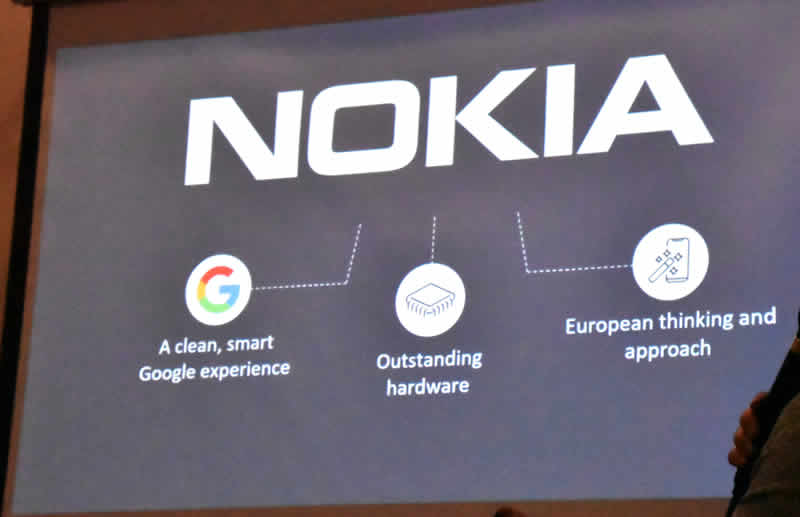 A great clean Google experience. Outstanding hardware built to the same rigorous standards Nokia has always had. They have some of the same partners they have had from the beginning. All that as well as a European approach to the longevity of the products and with a regard for the customers experience, by "doing things that help people in their lives". It would appear that for Nokia the aim is to re-build the same long-term relationship people had with the brand at its height.
Security. This is Nokia's major focus. Mitch asked the question "If you brought a phone because it had a pretty iridescent coloured back or had a nice bevelled side, six months down the line did that help you?" Most phones of a similar price range are generally going to perform to a similar standard. Here Nokia takes a different approach, they give an absolute guarantee regarding security. Nokia guarantees three years of security updates across any phone in the range from the cheapest Nokia 1 to the Nokia 9. Mitch pointed out that any Nokia phone will receive the same level of support. Most other makers tend to have minimal support for the cheaper range.
Mitch discussed the standard things most people do on their phones now. Most people do Internet banking, they have photos of family, they have work and home contacts so Google can locate their home and work place. The newer phones have NFC or Near Field Communication, with a banking app and NFC you have tap and go on your phone. It's like having your credit card glued to your phone. Then there is public Wi-FI with its security problems. For Nokia, safety is where the real deal breaker is.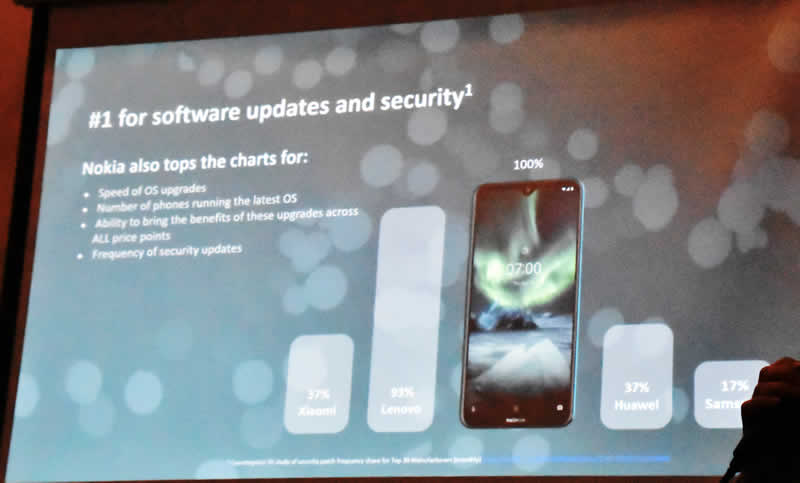 The stats show that Nokia is number one in security and phone updates. They have the fastest operating system updates, and the widest range of phones with the latest software. This is where the partnership with Google pays off - every Nokia phone receives the latest security and system updates. As Google creates security updates the Nokia teams verify that they work on the Nokia phones and sends them out. As Mitch pointed out if you want to run an anti-virus software or a firewall then that can give you an extra layer of protection on top of updates Nokia makes to the Android system.
One of the interesting things Mitch spoke of was the system updates. With most phones you are stuck with the Android version your phone shipped with. At Nokia they update to the newest version of the system.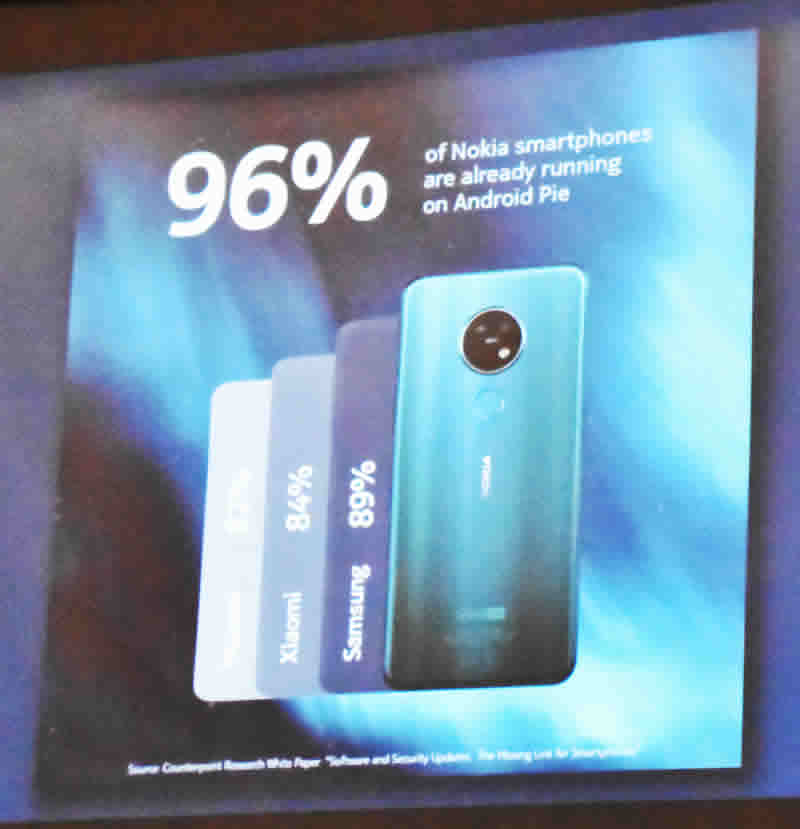 Here's a chart showing the update rates.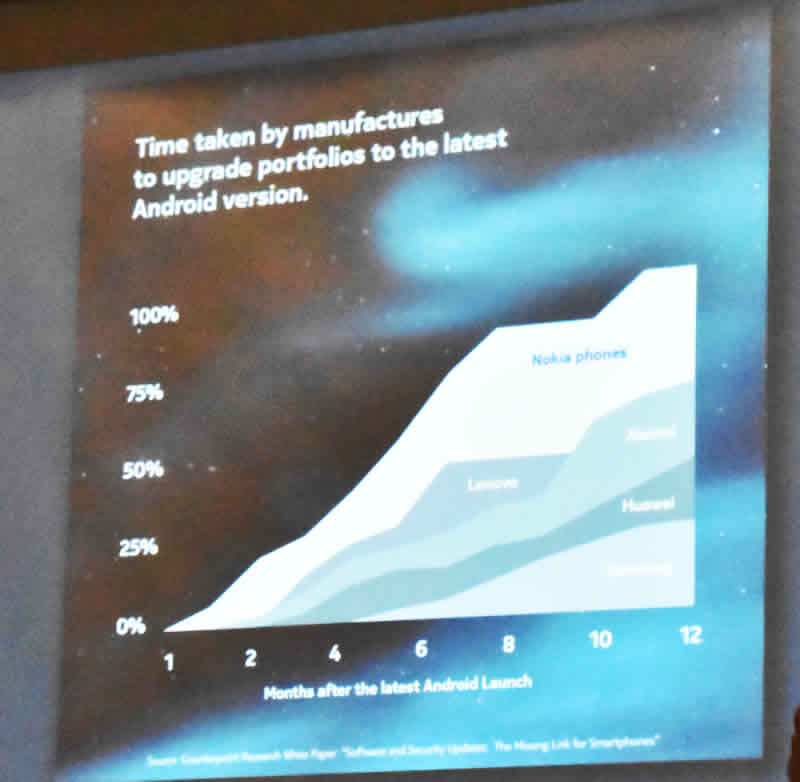 Mitch then spoke about Android One.
The Nokia phones with the 'android one' logo are guaranteed to get the latest AI updates. One example was adaptive battery monitoring which checks use and restricts services you don't use. Then there is an adaptive brightness to also conserver your power. You get guaranteed system updates.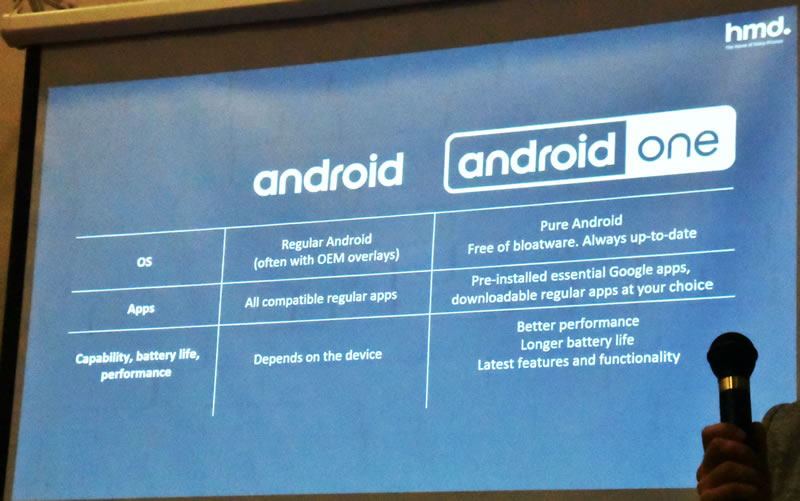 What are the key differences between Android and Android One? Android One phones are free of non-essential software (bloatware). Nokia only add the essential Google apps, like maps, G-mail and the Apps Store for example. That means better performance and battery life. There is a small partition left on the phone to allow for software updates, so you can never be out of space to receive the software.
We then had a look at the phones and their features, concentrating on the Nokia 9 PureView. The Nokia 9 is the world's first five lens camera phone
Each lens is 12 megapixels and they all work in unison. You take a photo and the camera processes the photo from each lens and complies a photo with one of the most dynamic ranges available in any current phone. It has 12.5 stops in the range for the most dramatic and detailed photos. We had a look at some of the Photos Mitch took.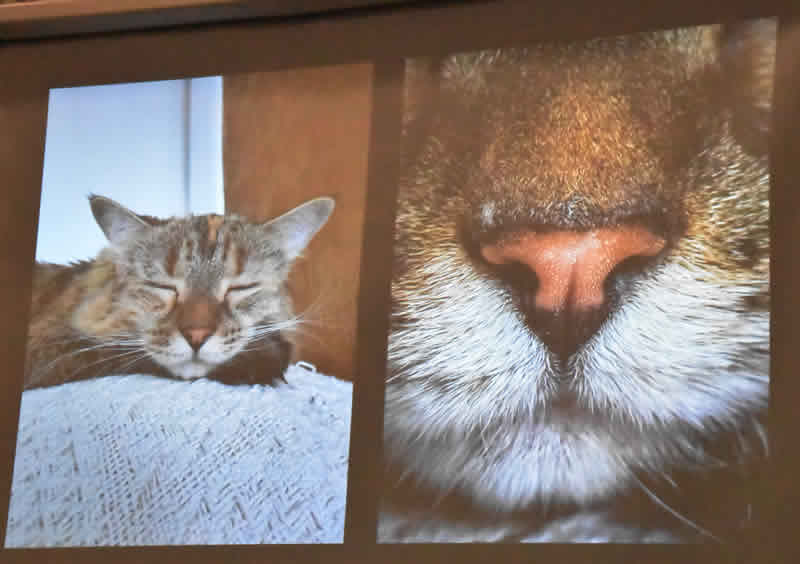 The phone saves the photo in RAW format just like a professional camera. The phone will prompt you to install Adobe Photoshop Lightroom, you can then use Lightroom to edit the shot like a professional. On the left is the standard unedited photo the photo you see on the right is how Mitch crop and edited the photo to bring out the individual features of cats nose without needing to zoom in and take a second photo.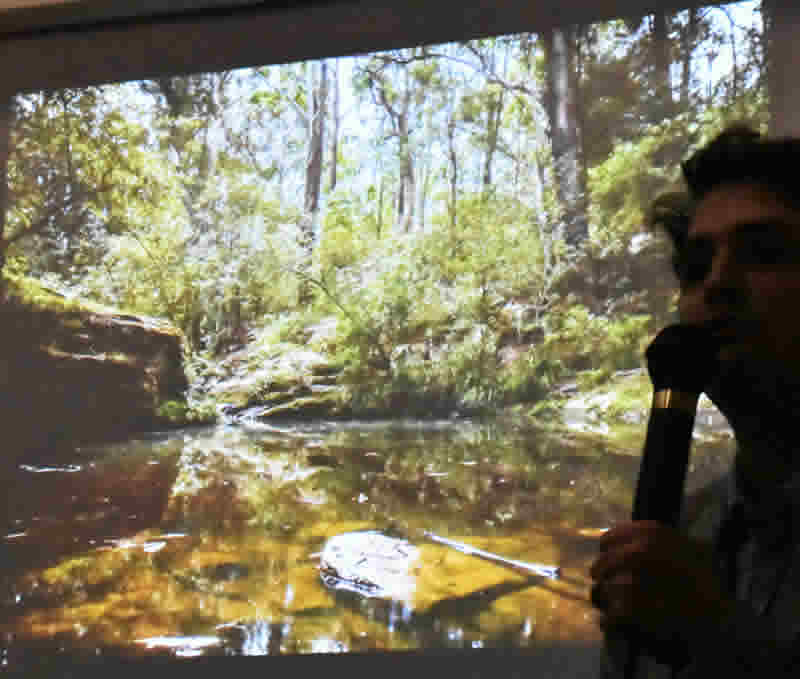 Mitch drew our attention to the way the PureView has even captured the details within the shadowed areas in this landscape. It takes black and white shots with three dedicated monochrome lens.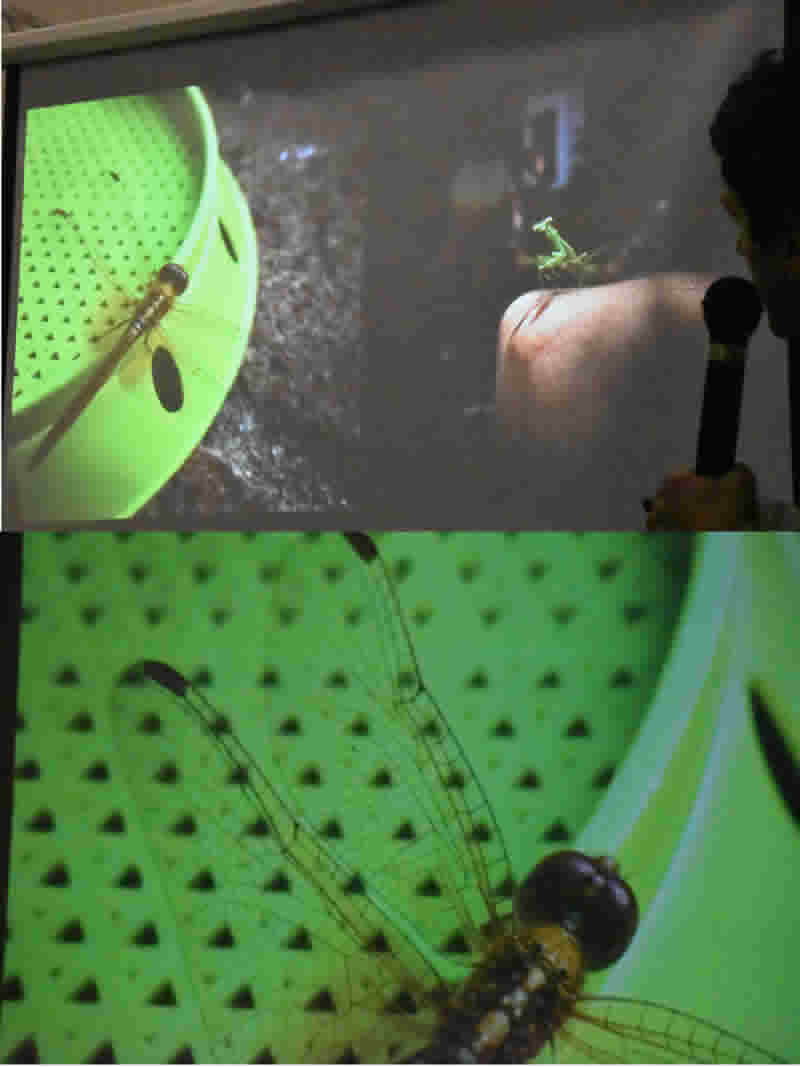 This one was an example of the micro detail the camera can capture. Give the limited detail of the photos on this site I have zoomed in on the dragonfly's wings so you can see the detail the PureView had captured.
The Raffle
Thanks to Mitch and HDM we had the top of the range Nokia 9 PureView.
Our lucky winner