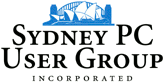 1st Floor
Sydney Mechanics'
School of Arts
280 Pitt Street, Sydney
http://www.sydneypc.com

Sydney PCUG's Blog
---
27 January - 1 February 2014
The Main Meeting

Penrith Group

---
THE MAIN MEETING
28 JANUARY 2014
This month's Main Meeting will feature a major presentation from Microsoft Australia's Jeff Alexander in which he will showcase Microsoft's latest operating system, Windows 8.1.
This is a "not to be missed" meeting and all members are encouraged to come to the meeting and to bring some of their friends and family to hear what Microsoft have to say about Windows 8.1.
This meeting will commence at 6:15pm in the meeting rooms on the 1st floor of the Sydney Mechanics' School of Arts.

---
Hello and Welcome,
The Consumer and Electronics Show (CES), is an electronics and technology trade show held in Las Vegas, Nevada USA each January.
The show is not open to the public, but details of many of the products that are previewed or announced are reported widely in the press.
A selection of some of the more interesting products that were on show at this year's CES will be discussed at our two meetings next week, details of which are below.
Tuesday 21 January - Seniors - 9:30am - 12:30pm
In addition to a selection of the products that appeared at this year's CES, the members will be shown some interesting technology sites that they may not have encountered before.
There will also be a review of some of the map and navigation aids that are available on the Internet if time permits and the usual question and answer session will be available to help members solve problems or discuss interesting computer issues.
Friday 24 January - Digital Photography - 9:30pm - 12:30pm
The photographers will also have an opportunity to view and discuss some of the products that came to light at this year's CES.
Members are asked to bring a selection of some of the photographs they are proud or pleased to have taken in recent months so that they can be viewed by the group.
Some time will be devoted to planning the topics and photographic exercises that member might like to pursue during the coming year and a question and answer session will be held for the benefit of members.
~~~~~~~~~~~~~~~~~~~~~~~~~~
John Mathews

---
Please remember if your e-mail address is changed for any reason at all, unless you tell me your new address you will not receive these weekly updates! Any change of address should be notified to changedetails@sydneypc.com
Information for Members and Visitors:
Please note that all Meetings, except where specifically stated, are held on the
1st Floor, Sydney Mechanics' School of Arts, 280 Pitt Street, Sydney.

DISCLAIMER: This Newsletter is provided "As Is" without warranty of any kind.

Each user or reader of this Newsletter assumes complete risk as to the accuracy and subsequent use of its contents.