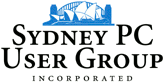 1st Floor
Sydney Mechanics'
School of Arts
280 Pitt Street, Sydney
http://www.sydneypc.com

Sydney PCUG's Blog
---
UPCOMING SIGs
12 - 17 May 2014
Programming SIG

Web Design SIG
---
Spybot Search and Destroy 2.3

New edition adds startup tools.
---
ASCCA
ASCCA's May Newsletter is now available here.
ASCCA's Training courses for May and June can be seen here and here.
---
VISITORS
Visitors are always welcome to attend meetings of the Sydney PC User Group.
Hello and Welcome,
There are two interesting meetings being held next Friday in the club's room at the Sydney Mechanics' School of Arts.
Friday 9 May - Seniors - 9:30am - 12:30pm
Last month this group discussed how to regain control of a computer's "start-up" process. At this meeting John Lucke will develop this theme further with a topic he has named "Maintaining control of your PC".
In particular, he will look at how uninvited add-ware, toolbars and other grime get into computers.
He will discuss some basic precautions that can be taken when new programs and updates are downloaded and look at a couple of specialized clean-up programs to help when all else fails.
If time allows he will also review some of the best regarded "clean" freeware download sites.
In addition, some members are currently wondering how they can continue to use computers that run on Windows XP. Using one of the Linux operating systems is an option that can be considered and, with is in mind, a short introductory look at the Ubuntu operating system will be given at this meeting.

There will be time for general discussion plus question and answer session before the coffee break.
Friday 9 May - Communications - J Lucke - 12:30pm - 3:30pm
You may have heard of "ransom-ware" but do you know how can it harm your computer?
Motivated by a friend's recent bad ransom-ware experience, John Lucke will discuss this menacing threat at this month's meeting.
He will explore the precautions that can be taken to shield a computer from these insidious violations and the steps that can be taken to restore a computer when a ransom ware attack or security breach occurs.
The usual general discussion and question and answer session will be available for members at the meeting.
~~~~~~~~~~~~~~~~~~~~~~~~~~
John Mathews

---
Please remember if your e-mail address is changed for any reason at all, unless you tell me your new address you will not receive these weekly updates! Any change of address should be notified to changedetails@sydneypc.com
Information for Members and Visitors:
Please note that all Meetings, except where specifically stated, are held on the
1st Floor, Sydney Mechanics' School of Arts, 280 Pitt Street, Sydney.

DISCLAIMER: This Newsletter is provided "As Is" without warranty of any kind.

Each user or reader of this Newsletter assumes complete risk as to the accuracy and subsequent use of its contents.