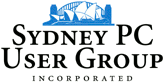 1st Floor
Sydney Mechanics'
School of Arts
280 Pitt Street, Sydney
http://www.sydneypc.com

Sydney PCUG's Blog
---
UPCOMING SIGs
8 - 13 September 2014
Programming SIG

Fridays Senior SIG

Communications SIG
---
PORTABLE APPS - Platform 12
Read about it here.
---
Vale Frank Talas
Members will be saddened to learn that our long time member, Frank Talas, died on 20 August.
---
Hello and Welcome,
The Penrith Group will hold their monthly meeting next Saturday. Please note that the meeting will be held at a new venue on this occasion.
Saturday 6 September - Penrith Group - F Bowman - 2:00pm - 5:00pm
Frank Bowman will start the meeting with a question and answer session around the table where members can share their problems, advice and tips.

During the afternoon the group will:
(a) make an image backup of a Windows 7 C: drive, using the program's built-in software;
(b) examine the features of Nuance's Power PDF, using a 30 day trial copy of the company's new program; and
(c) investigate the partitioning of a hard disk with Windows 7's built-in software and a freeware program.
This month's meeting will be held in a member's home due to fire damage at the group's usual meeting place. If you are going to the meeting please ring Frank on 4722 2456 for directions.
~~~~~~~~~~~~~~~~~~~~~~~~~~
John Mathews
---
Please remember, if your e-mail address is changed for any reason at all, unless you tell me your new address you will not receive these weekly updates! Any change of address should be notified to newsletter@sydneypc.com
Information for Members and Visitors:
Please note that all Meetings, except where specifically stated, are held on the
1st Floor, Sydney Mechanics' School of Arts, 280 Pitt Street, Sydney.

DISCLAIMER: This Newsletter is provided "As Is" without warranty of any kind.

Each user or reader of this Newsletter assumes complete risk as to the accuracy and subsequent use of its contents.