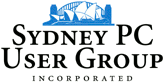 1st Floor
Sydney Mechanics'
School of Arts
280 Pitt Street, Sydney
http://www.sydneypc.com

Sydney PCUG's Blog
---
UPCOMING SIGs
15 - 20 September 2014
Tuesdays Seniors SIG

Genealogy SIG

Web Design SIG
---
The Sydney PC User Group's 30th Anniversary Meeting
One of the giants of the computer industry, Google, will be at this meeting.
It is one meeting that you should not miss - register now to attend the meeting
---
Learn how here.
---
Sharing files with Open Document Format
---
ASCCA
---
Hello and Welcome,
Details of next week's meetings are below.
Tuesday 9 September - Programming - N Hoffman - 5:30pm - 8:30pm
At the August meeting Andrew discussed the charging of lithium-ion batteries. The ideal method is constant current charging followed by constant voltage charging. He showed us a charging circuit he built using a PIC12, and discussed the
mikroBASIC
program he wrote for it.
Lino demonstrated a vapour phase soldering station he built, using it to solder surface mount components to a PCB, a task that would require skill and time using a soldering iron. An electric hotplate was used to vapourize a liquid inside a pot, and the PCB with the components mounted on it with solder paste was lowered into the vapour. The solder paste melted, neatly soldering the tiny pins to their copper pads.

The liquid was selected for its boiling point of around 200 degrees, which is above the melting point of the solder paste but below that of electronic components. As the vapour is in contact with its parent liquid its temperature does not rise beyond its boiling point and so cannot damage components. The vapour condenses on the PCB assembly, transferring its latent heat at constant temperature, melting the solder paste.
Johnny discussed a paper by Morimoto et al on ways of maintaining optimal performance from interior permanent magnet synchronous motors in applications where the speeds vary widely.
Summaries of all Programming SIG meetings can be read at the following site:
Members of the group will demonstrate some new microprocessor applications and programming examples at Tuesday's meeting. - Neville Hoffman
Friday 12 September - Seniors - 9:30am - 12:30pm
"Befriend your web browser" - You call upon your browser every day to surf the web, search the world, shop online, pay bills and do many other things.

But, how well do you really know this most willing servant?

At this meeting the group will discuss some tips and tricks on how to make your favourite browser an even more obliging and helpful friend.
There will be time for questions and answers and a general discussion at the meeting.

Friday 12 September - Communications - J Lucke - 12:30pm - 3:30pm
"Your Own Daily News" - How would you like all the top, current news stories on your selected topics, delivered daily from around the world for free?

Whether your interests are in travel, computers, healthy living, photography, fine dining or something else, the best news stories are freely available to you.

John Lucke will show how you can get your own selected news stories delivered daily at this meeting.
This will follow the usual question and answer session and general discussion.
~~~~~~~~~~~~~~~~~~~~~~~~~~
John Mathews

---
Please remember, if your e-mail address is changed for any reason at all, unless you tell me your new address you will not receive these weekly updates! Any change of address should be notified to newsletter@sydneypc.com
Information for Members and Visitors:
Please note that all Meetings, except where specifically stated, are held on the
1st Floor, Sydney Mechanics' School of Arts, 280 Pitt Street, Sydney.

DISCLAIMER: This Newsletter is provided "As Is" without warranty of any kind.

Each user or reader of this Newsletter assumes complete risk as to the accuracy and subsequent use of its contents.