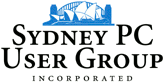 1st Floor
Sydney Mechanics'
School of Arts
280 Pitt Street, Sydney
http://www.sydneypc.com

Sydney PCUG's Blog
---
Hello and Welcome,
Tuesday 19th April
Tuesday Forum: 9:30 - 12:00
At this meeting, we will discuss with each member how they may have personalised their screens and browsers for better viewing, navigation, searching, house-keeping and more. With so many different devices and options available, we're sure to discover something new to try.
There will also be the usual Q & A session plus general discussion.
Family History: 1:00 - 3:00
Terry will conduct a general revision on recent topics covering both Australian and overseas research. This will be a great opportunity to catch up on something you may have missed or need clarification on.
Friday 22 April - Digital Photography - 9:30 - 12:00
Information for Members and Visitors:
All Meetings, unless specifically stated above, are held on the
1st Floor, Sydney Mechanics' School of Arts, 280 Pitt Street, Sydney.
DISCLAIMER: This Newsletter is provided "As Is" without warranty of any kind.
Each user or reader of this Newsletter assumes complete risk as to the accuracy and subsequent use of its contents.