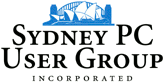 1st Floor
Sydney Mechanics'
School of Arts
280 Pitt Street, Sydney
http://www.sydneypc.com

Sydney PCUG's Blog
---
Next week's meetings
Friday Forum

Communications
---
Hello and Welcome,
Details of this week's meeting is below.
Saturday 4 June - Penrith Group - 2:00 - 4:00
We'll have our usual Penrith SIG meeting on Saturday 4th June, from 2 pm to 4:30 pm. Topics we will put on the table are these.
(a) A look at some formulas that can be used in spreadsheets, and graphing of data.
(b) We'll put a piece of Ashampoo freeware to the test (Ashampoo Snap).
(c) What is new in Raspberry Pi 3? We'll look at some reports on the mini computer.
(d) We'll compare the features of two image editors.
If you intend going to this meeting, please email Frank at fbowman@ozemail.com.au for the location of the meeting place.
Happy days,
Frank.
Information for Members and Visitors:
All Meetings, unless specifically stated above, are held on the
1st Floor, Sydney Mechanics' School of Arts, 280 Pitt Street, Sydney.
DISCLAIMER: This Newsletter is provided "As Is" without warranty of any kind.
Each user or reader of this Newsletter assumes complete risk as to the accuracy and subsequent use of its contents.