Check out the Group's ► ► ► "Active Construction Site" ◄ ◄ ◄
Two dimensional CSS Grid has arrived

Today, we are in the early stages of such a revolutionary shift, brought about by CSS Grid Layout. Much of what we know of the possibilities, limitations and best practices surrounding web layouts is effectively rendered obsolete by this new layout module, and in their place we find new possibilities, limitations and best practices that will take us into the next era of web design.
Much has already been said about the technical aspects of CSS grid and its one-dimensional cousin flexbox. In this article, I want to bring these concepts into practical use.What you'll get is a starting point for exploring what new layout opportunities and challenges CSS grid brings, what old problems it solves and how to start using the module in production websites today. Read the full article at - Smashingmagazine
Adobe's Brackets Web Editor has much to offer
Brackets is a modern open-sourced web site editor that enables quick editing of HTML, CSS and Javascript files. It's available as a free download for all operating systems with installation as easy as point and click.
The Brackets editor has everything you need for working with files and directories along with creating new files. The code completion - parsing and hints - features allows you to quickly assemble applications without knowing exact syntax. An ever growing selection of useful extensions are included, any of which can be easily activated using the Extension Manager. Also, the helpful online documentation plus features like Quick Edit is what has made Brackets so popular. » More info and download Brackets here.
IN with "flexboxes, rows & wraps" - OUT with "floats & clears"

This web-site has now adopted the newer approach to responsive web design by using the more manipulative CSS3 "flexbox" styling method. Flexbox styling is now supported by all modern web browsers so that pages now display the way designers intended, irrespective of browser type or screen size.
See Adam Khoury's excellent 10:00 minute video tutorial to discover more about CSS3 Flexbox Essentials and Flexible Box Layouts.
Choosing the right CSS Units
What is the difference between ems and rems? When should I use pixels or percentages? How does vmin and vh work? How long is a piece of string?

This excellent video demonstrates how each of the measurement units used in styling web pages can affect each page's layout and behaviour. If you have found that certain elements of your design do not render as expected, this video will almost certainly help in highlighting the problems.
Source: DevTips
The Sydney PC & Technology User Site Incorporates - Responsive Web Design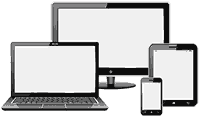 Responsive Web Design is about creating webpages that look great when viewed on any device and screen size. Whether viewed on a TV, desktop, tablet or smart phone, web pages should provide an enjoyable, user friendly experience for everyone. This can be achieved by adding "media queries" to the responsive site's CSS style sheet. Media queries then automatically adjust and re-arrange the content of a website to suit the screen width of the viewing device being used.
To illustrate how Sydney PC & Technology User Group HOME page layout and content is automatically re-sized and repositioned in response to various screen sizes, this full width column, plus two columns, three columns and four columns are used. To see it in action, open this responsive page using any of the latest desktop browsers, then grab the edge of the browser window and slowly drag it narrower or wider. You will see the layout automatically adjust itself to fit the new width of the browser, even if you make the page as narrow as a mobile phone. Media queries may also be set to add or remove any page element and do lots more to create a better viewing experience.
Total Validator

Total Validator is an (X)HTML validator, an accessibility validator, a spell checker, and a broken links checker all rolled into one tool allowing one-click validation of your web pages.
Since its release Total Validator has become extremely popular with Web developers around the world. Each year millions of validations are performed using the desktop tools, of which over a quarter of a million copies have been downloaded. This excellent validator provides numerous options and quickly displays its results using your favourite browser.
Total Validator provides the following basic features:
The best HTML5 validation against the W3C Markup Standards
Accessibility validation against the WCAG (1.0 and 2.0) and the US Section 508 standards
Check for broken links
Spell check English, French, Italian, Spanish, and German
One-click, and DOM-based validation using our Browser extensions
Validate local pages, and pages on intranets or other private sites
Versions available for Windows, OS X, and Linux
Download Total Validator and validate your web pages today.
☆ ☆ ☆ ☆ ☆
Webcity provides hosting and domain registration for our club's website.
Webcity:
Office: 47 Bourke Rd
Alexandria NSW 2015
Ph 1300 655 590
Webcity Support
PHP Info
Check this site's phpinfo file here.